African All Stars
Pape Souare set for Crystal Palace return against Huddersfield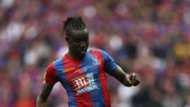 Pape Souare is set to make his first appearance for Crystal Palace after staying out of action for a year following a car accident that left him with a broken collar and thigh bone.
The Senegal international last played for the Glaziers against Bournemouth in August 2016 and is now set to make his first appearance for the first team after stepping up fitness with cameo appearances for the U23 side.
Roy Hodgson has included the defender in the squad that will play Huddersfield Town in the third round of the Carabao Cup on Tuesday night.
Souare who was a regular under the former boss, Alan Pardew, will be hoping to impress the new boss in order to get his place back in the squad.