Juventus
Ozil, you're next! Allegri's public bust-ups with 'dickhead' Bonucci, Dybala & Juve stars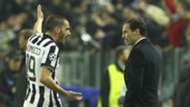 ---
COMMENT
---
Massimiliano Allegri is no stranger to touchline dust-ups. After losing his temper with the fourth official in the dying seconds of Juventus' 2-1 loss at Fiorentina on January 15, he dead-panned: "He was man-marking me and I couldn't shake him off for the whole 90 minutes, so I got a little annoyed."
However, lately, he's been having run-ins with his own players. First, Paulo Dybala refused to shake his hand after being replaced in the 2-0 win over Sassuolo on January 29. Allegri calmly reasoned: "He was angry and this is normal because no one likes to go off."
Higuain: Dybala can be one of the best
The following weekend, Stephan Lichtsteiner reacted furiously to his substitution in the 1-0 victory over Inter. Allegri diplomatically explained: "It's already all cleared up. There was a misunderstanding."
However, when Leonardo Bonucci tried to tell Allegri how to do his job towards the end of last Friday's 4-1 defeat of Palermo, the Bianconeri boss put the player in his place in no uncertain terms.
"Shut up, dickhead!" he roared. "Focus on the game. Fuck off!" An upset Bonucci subsequently stormed straight down the tunnel when the full-time whistle blew but Allegri once again brushed the matter aside in his post-match interview.
"There was a misunderstanding but there's no issue," the former AC Milan coach insisted. "These things happen."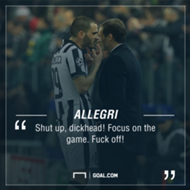 They certainly do but usually not within stable, successful squads. Indeed, this latest row with Bonucci was interpreted by some media outlets as evidence of Allegri losing control of the dressing room; that the players' public shows of insubordination are the result of rumours that the coach will be leaving at the end of the season.
However, the spats are more likely the side-effects of Allegri rousing the Old Lady and her charges from a Serie A-induced slumber. For many months, Juve's players were sleep-walking their way towards a sixth successive Scudetto; winning without playing well.
After that shamefully subdued showing in Florence last month, Allegri decided to take the radical step of ditching Juve's beloved 3-5-2 in favour of a more adventurous 4-2-3-1 which would demand far more of the team's attackers.
As Giorgio Chiellini said, "It wasn't just a technical decision. Allegri was really smart to find this new system because we needed something to shake us up." It worked, too, with Juve having won their last seven games in all competitions going into Wednesday's trip to the Dragao to face Porto in the last 16 of the Champions League.
Wenger set for Barca or China?
In shaking things up, Allegri has also reawakened Juve's hyper-competitiveness. Once again, there is an edge, a nastiness about the team and its players, just the way the coach likes it.
Indeed, after watching his side three times in the opening half hour of a surprise Serie A defeat at Genoa in November, Allegri was asked where it had all gone wrong for his side.
"They made 25 fouls; we made eight," he stated matter-of-factly. "When those are the stats, it's impossible to win a game of football."
Allegri is aware that artistry is nothing without the requisite amount of aggression. It is why he would be viewed as a breath of fresh air at Arsenal - and why he has turned up the temperature in Turin.
Of course, in such circumstances, things could easily boil over (as they already have in the case of Bonucci, who is now set to be dropped from the squad to face Porto) but former Juve striker Gianluca Vialli is not in the least bit concerned, suggesting that Allegri is simply following in the footsteps of those who have gone before him by trying to fire up his players for the business end of the season.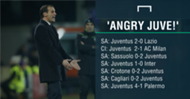 "These things do happen," the ex-Chelsea boss explained during a discussion on Sky Sport Italia on Sunday. "Sometimes the coach can even orchestrate these things. In a winning team, where everyone's too relaxed, the coach can do it deliberately. It happened to me at Juve with Lippi.
"I remember one day before training, Marcello called me to this dressing room and said, 'The guys are too relaxed. Today I'm going to get angry with you because I want everyone to wake up.'
"So, when we were doing some warm-ups in training, Lippi roared at me once, 'Luca!' Then twice. Three times. Four times. Then, the fifth time, I said to him, 'Look, if you roar at me again, I'm going to say something back because my team-mates expect me to say something! We'll finish it here and that's fine. Message received!'
Dani Alves opens up on Ronaldo rift
"In other clubs, I think these things might be handled in a different way. But at Juve, it's always been like this. I know Juve as a club, the environment, and I see Allegri as a very intelligent coach.
"We saw how he mended his relationship with Dybala immediately. I don't think at Juve these things leave a mark. At other clubs, if they were managed in a different way, it could become a problem. But at Juve they're immediately forgotten."
At Arsenal, perhaps the likes of Ozil and Co. could do with reminding who's in charge. Perhaps they could do with Allegri.