Serie A
Osun are Copa Coca-Cola champions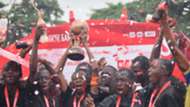 Progress Comprehensive High School, Osun are the champions of 2017 Copa Coca-Cola after handing Owerri City College, Imo a 1-0 defeat at the Onikan Stadium, Lagos.
A first half solo strike from Adewale Akinlabi gave Osun the victory as they were crowned the winner of the biggest school competition in Nigeria.
Henry William, the most impressive player in Imo's rank and tournament's Golden Boot winner, threatened the opposition's back line on numerous occasions but was frustrated by the disciplined Osun's defence.
At the other end of the pitch, striker Enoch Emmanuel was a handful for Imo but Chukwuma Abara matched his quality attempts with terrific saves.
But Akinlabi's individual effort gave the Osun representatives the win.
The midfielder took the ball in the opposition's area and beat off challenges from opposing defenders, skillfully, before blasting the ball past the outstretched arm of Abara.
In the third-place final, Government Junior Secondary School, Katsina defeated Fosla Academy, Abuja 1-0 to claim third position in the school competition.