PSL
Opinion: Sundowns still cruising to the PSL title
South Africa Chief Editor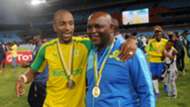 The electricity problem in Mamelodi Sundowns' midweek fixture has breathed some much needed life into the Premier Soccer League race. With Sundowns and Chippa having to continue their game midway into the match, the disruption aided United in holding out for their lives in this stalemate.
I'm not a fan of re-arranging fixtures but these are the rules. The in-game psychological development that arises through momentum is key in matches. This is why home ground advantage is key, and why highly tactical foreign clubs use spoiling tactics to break the concentration of superior clubs who are in great form in their own backyard.
Either way, the PSL's title race needed a lifeline. Many optimistic (Kaizer Chiefs followers mostly) have been spurred by the likes of Steve Komphela who pointed out that Pitso Mosimane's outfit still need to put the points on the board for their four to five games in hand.
Even though it's an obvious point, one would be foolish to ignore not just Sundowns dominance but also their form and consistency. They're in cruise mode to the title at the moment. If you take their points to game ratio and apply it to the table, they'd be sitting comfortably on top with 41 points. That would put them six points clear of their nearest rivals, SuperSport United while the likes of Chiefs would still have played an extra game and sitting further behind.
For Sundowns to uncharacteristically go through a terrible run, with let's say four points from four games they'd need to draw all four, or win one, draw one and lose two. For such a miserable return of points, they'd still overtake everyone. The real hope for the league is that Sundowns not only endure such a run, but to also break their confidence for that kind of stuttering form to prolong. I can't see it happening even with their heavy schedule. It speaks volumes for how Sundowns' kept themselves in great shape physically for Caf competitions and the league. Their results have been good enough to be champions anyway.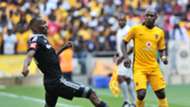 The Soweto clubs are out of it
On the other hand I've been very disappointed by both Kaizer Chiefs and Orlando Pirates. Even though Amakhosi's on a great run since the restart, that's no reason to believe that they're suddenly a great team. You can't believe Komphela's no good half way through the season, and then after just five more games, suddenly change that view to such an extreme to believe that he's brilliant. Both Orlando Pirates and Chiefs have been playing so badly and inconsistently this season, that they needed to take responsibility for their poor results. Due to Sundowns having played less games, despite the Soweto club's bad run, Chiefs kept looking at the table and fooling themselves that they're still in the race.
Bucs terrible results in early February put an end to their ridiculously remote hopes. You might say I'm harsh to state they've been foolish, but what else can you say about Augusto Palacios' interviews when he said that Pirates were in the race. It's unacceptable for Pirates and Chiefs to be out of the race so early.
Chiefs remind me of how Manchester United turned things around midway through the season. The difference is that after a great run, United remained in sixth spot. That's because the EPL is a tightly contested competition, while Amakhosi's run suddenly saw them jump to first spot. Okay, after their recent draw they're now a point behind the leaders. However I can't see them keeping their noses ahead of Sundowns.
Even though Bidvest Wits lost against Sundowns on the weekend, for me they're still the best placed team to overtake the Brazilians. SuperSport United can definitely be in the same boat. Cape Town City's a little short but they must be hailed for their amazing points total so far, and should be proud no matter where they finish. Right now they're joint top on 35 points, but you always expect them to slide down at some point. Friday's game against the Brazilians will tell us if they can stay in the hunt with Wits and United. If Sundowns win, they'd already be equal on points with City, having played five games less. That'd be remarkable.
And yes, I'm ruling out Chiefs already. If Amakhosi's going to somehow surprise me, they'd have to keep up the momentum they've displayed in their five match run. I can't see that happening either. They're bound to stumble at some point and this is when the Brazilians will steer clear.