South Africa
OPINION: Safa must choose Renard and stay away from Hodgson for Bafana
South Africa Chief Editor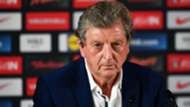 On Tuesday Safa CEO Dennis Mumble told the media that they will only reveal their five-man short list after they've spoken to their preferred candidates.
"We've got a shortlist, we're down to five," said Mumble.
"We can't tell you the names yet because we still have to speak to them. We haven't spoken to them.
"We decided on reducing the list of 61 applicants that we had to 20 in the first sitting. In the second sitting this past Sunday, we reduced it to five. But it's not the five your read about in the papers," said Mumble.
Last week Safa revealed that Roberto Mancini, Giovanni Trapattoni, Hassan Shehata, Hugo Broos, Muhsin Ertugral, Samson Siasia, Lothar Matthäus and Bernd Schuster were some of the big names in that long list. 
Surprisingly, the only name to survive into the reported leaked short list is Broos. Our editor Ignat Manjoo goes through the rumoured options one by one, with his opinion on each:
Roy Hodgson
Just like myself, South African soccer has always been fascinated by English football, since we grew up watching the old First Division and Premier League on television. Over the years we could only dream of following in the footsteps of the Three Lions. I'd be ecstatic if we were coached by the likes of Fabio Capello and Sven-Göran Eriksson but Safa needs to dodge the bullet that is Roy Hodgson. The only reason England hired him in the first place is because they wanted an English manager and were short of options. Bafana Bafana doesn't need an Englishman. With a whole world of options (if we don't want local that is), it would be a tremendous mistake to select Hodgson above all. 
I've followed Hodgson's coaching career from the early 90's and back then I believed he was a rare, talented English manager because of his European experience, albeit at smaller leagues in Scandinavia. Hodgson impressed me during his time at Switzerland. Even though he wasn't a great success in Inter Milan, it was an honour for him to coach at such an illustrious Serie A club. 
Since then, Hodgson's main failing is his inability to adapt to the modern game adequately. He is finely suited to small English clubs who want to survive in the Premiership. He knows how to park the double-decker bus. Even at a club like Liverpool he parked that bus against teams who were normally afraid of the Reds. Hodgson's methods worked best in recent times at Fulham, but he wasn't the right fit for team's who needed to play a more attractive brand of football. He was found out at Liverpool, but somehow the English FA overlooked that and didn't properly research what went wrong there.
If the English could make such a massive mistake, then South Africa has to hope Safa doesn't follow them. Hodgson is 69-years-old and there should be serious questions about his policy of giving youth a chance. When he was with England, he was fortunate to receive easy qualifying campaigns. Whenever it mattered in the competitions, he played the safe hand by selecting popular starting elevens and attempting to play expansive football, but at the same time being unable to create a proper balance in the setup. Hodgson can organise a defense if they're all sitting back deep, but when he makes the public happy by attacking, he leaves huge holes at the back. 
I've enjoyed watching the England national football team from 1988 and Hodgson's teams were the first in three decades that I wasn't excited about. You don't even have to just take my opinion on the matter. Look at the tournament results. Failure to get out of the group stage with England in Brazil 2014 and getting dumped out of Euro 2016 by Iceland! If he couldn't beat the likes of Iceland with England, what would happen if Bafana Bafana played the likes of Iceland? Okay, that's a funny example. The most serious, proper question is: What does Hodgson know about African football or Bafana Bafana? He can't sign Bobby Zamora for Bafana.
I'd rather have any South African coach from the PSL, even Clinton Larsen than Hodgson. It has to be a joke. So, next :>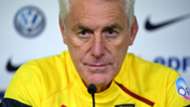 Hugo Broos
I'm not going to write as much about the other four candidates because I mainly wanted to state that we shouldn't select Hodgson. Belgian coach Broos is flavour of the month because he won the 2017 Afcon with Cameroon but his CV before that doesn't impress me at all. Still, to win the Afcon with a weakened Cameroon side, that takes some doing. His experience in Africa is another feather in his camp that makes him a much better choice than Hodgson.
Stuart Baxter
Baxter was not ready for Bafana Bafana in his first stint, but in recent years he's learned our local soccer so well, won the PSL title with Kaizer Chiefs and he knows how to get the best out of our players now. Like Pitso Mosimane, he's been burnt by that hot seat before but he'd know how to sit on it now. He can learn from his mistakes. Back then he was in the qualifying group with what was then, one of Africa's best teams, Ghana. This time he'd have a head start thanks to Shakes Mashaba already beating Senegal at home in SA. I'd be happy with Baxter because of his recent PSL experience and for this reason I'd have him ahead of Broos but I believe the next two options are even better.
Carlos Queiroz
You already know him well enough. No need to introduce the former SA coach who qualifed us for the 2002 Fifa World Cup. Okay, that is an introduction. He's done it all before with us and Iran. He's arguably the best from this five man list because of his record around the world, earning respect at Real Madrid and (as assistant at) Manchester United. Queiroz wanted to sort out our youth structures over 15 years ago. It's time we allowed him to get us back on track and finish the job. Truly.
Herve Renard
Even though I say that Queiroz is the best of these options, Renard is my favourite pick. That's because I'd be intrigued to see someone new takeover the helm, and I always rated Renard highly after his heroics with lowly Zambia, our Southern African brothers and neighbours. That's why I have a soft spot for him. Then he proved that he can not only get the best out of lesser known players in making them raise their game, but he also got the best out of the African stars at Ivory Coast, a feat many failed at down the years. Bafana Bafana needs a coach who's not afraid of star players. Even though Bafana Bafana doesn't have world renowned stars like Ivory Coast, Mashaba always managed to alienate himself from those who the public felt were obvious starters in the team. Let's hope the next coach can get the balance between discipline, fairness and inspiration right.
I said it a few days ago. European club records don't count for much when qualifying an African nation for the World Cup. A coach needs to know how to adapt his style to African conditions at stadiums/hotels/pitches/weather/treatment, as well as the public and media in SA. He needs to have a brilliant knowledge of African opposition and above all, a knowledge of South African players together with the ability to get the best out of them. I believe Broos, Baxter, Queiroz and Renard can do it. The latter two tick all the boxes.
Come on Safa, stay away from Hodgson and make the right choice.  Otherwise, one day we will have to face the music with Hodgson in a press conference.
"I don't really know what I'm doing here. I thought that we played well against Swaziland and we had a fantastic start, so for the life of me I can't fathom how we ended up losing the game. It's a pity that after famous wins against Lesotho and Mauritius, that you are going to ask me about this one result."