PSL
Opinion: Orlando Pirates should've noticed the elephant in the room
South Africa Chief Editor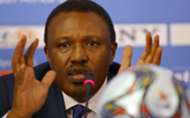 Orlando Pirates' embarrassing results in the Premier Soccer League is due to the club's poor organisation in recent seasons.
One mismanagement after another, piled over like dominos, eventually crashing the board game into the disaster we witnessed this past weekend, Mamelodi Sundowns 6-0 Orlando Pirates.
At the beginning of the season many pundits tipped Bucs as one of the favourites for the PSL title. This was due to a number of good signings. However when you make so many changes it's only going to take time for them to gel, and you can't expect immediate results. This was particularly true since they signed (what is in South African standards) young players. I'd expect that a team like Pirates would know how to work the transfer market to win trophies immediately, not to wait a few seasons for success. You'd expect clubs with less resources to build slowly.
Muhsin Ertugral was one of the best coaches in South Africa, not just for his success with MP Black Aces last season, so for him to get embarrassed 6-1 away to SuperSport United, was an early indication of the serious issues in the camp. Actually Bucs started the season very well and were very much in the title race. One stupendous result doesn't suddenly mean Ertugral should be sacked immediately. Experienced football analysts would remember Alex Ferguson losing 5-0 on two occasions (to the likes of Newcastle) but still going on to lift the English Premier League title with Manchester United.
Instead Ertugral quit the very next day on November 2. What I found stranger about this ordeal is that the Turkish coach didn't want to reveal his reasons for leaving. If I told my wife on Valentine's Day (today) that I'm going to leave for the night, and I didn't want to state any reasons… she's going to imagine the worst. One could imagine the worst at Pirates behind the scenes.
The bigger problem is not the overnight results, it's the way they've dealt with coaches in recent seasons. Roger De Sa wasn't popular despite taking the club to a number of finals, the highlight being Caf Champions League runners up. He was remembered as a loser, but there were signs that he could've built something special there. His assistant Eric Tinkler is performing magnificently as a coach at Cape Town City now, but Tinkler's league form was atrocious at Bucs. It's unacceptable for a club like Pirates to twice allow assistants or caretaker coaches to sit on the hotseat for long periods of time. If you're going to appoint a young coach and young players, then you need to give them time. Causing further changes with that strategy is going to turn the entire club into a mess.
The biggest and proudest clubs in the land shouldn't function like that. Can you imagine Manchester United replacing Ferguson with Mike Phelan, and then replacing David Moyes with Ryan Giggs? As poor as some of United's own decisions in recent seasons, they didn't dare take those gambles. Bringing in a caretaker coach is sometimes required to steady the ship, and worked well for Chelsea with the likes of Rafa Benitez, winning the Europa League and easily qualifying for the Uefa Champions League. So, it depends on who you bring in.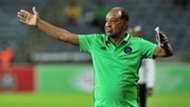 Palacios, the wrong choice from the start
In my books Augusto Palacios was never the right choice. For some reason he is highly rated in South Africa. Rated high enough to get the first Bafana Bafana head coach position, and managed to embarrass the country with results that were so awful that we believed we were so awful from then on. First impressions last that we were boys and not men. So, thanks to Palacios we are Bafana Bafana. Just look at the difference a good coach like Clive Barker can make to the same nation next.
In those days South Africa rated Palacios highly because he coached Hong Kong. The ladies team. Seriously? Okay, he also coached Sport Boys back in his home country, Peru. Still, that's not enough to earn you a national team position. These days an international coach requires a much better CV to work at Pirates, Sundowns or Chiefs. Fast forward to the future, and Pirates name Palacios caretaker coach even though he hasn't coached a first team for two decades, with the sole, minor exception of being the temporary coach at Pirates for three months in 2012. The Peruvian coach may be better with developing youngsters at Pirates (the jury is out on that too), but he's certainly not the man to steady the first team. Palacios is well respected at Pirates. Let him help the Multichoice Diski team.
Mamelodi Sundowns are the champions of Africa so if Pirates were going to receive a tennis score, at least it's to the most decorated team in the land. Though, these are the games where you expect your club to raise their game. Embarrassing losses against your closest rivals break you.
Regarding the ugly scenes after the game, it's about time many supporters matured and displayed true sportsmanship at stadiums but that's another story. It's not surprising that the fans couldn't take it any longer but it's no excuse for the unacceptable act of storming the pitch. We've seen this around Africa, including at ES Setif when they lost to Sundowns in Caf. As a result the Algerians were disqualified, so Bucs supporters need to think twice before they cross the line again. Irvin Khoza should think thrice before appointing another poor caretaker coach. Waiting for your preferred coach to become available later, is no reason to appoint somebody to sink the ship. Right now Bucs are still closer to the relegation spots than the top of the table, and Sundowns haven't even played their games in hand yet.
For all South Africa's best clubs to stand tall in this continent, let's hope that next week Khoza names a strong permanent coach.