NPFL
Ondo state government explains Sunshine Stars overhaul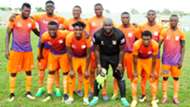 The Ondo state government say its decision to overhaul Sunshine Stars was due to it poor outing in the out-gone 2017/18 Nigeria Professional Football League season.
The Owena Whales finished in the 18th spot with 28 points despite a three-point deduction but escaped relegation following the abrupt ending of the Nigeria topflight season after 24 games.
And state's Commissioner for Sports and Youth Development Saka Yusuf-Ogunleye, said that the sacking of team's management were at the approval of governor Oluwarotimi Akeredolu.
"It has become necessary to dissolve the technical crew, technical pool staff and players of the Sunshine Stars Football Club of Akure," the commissioner told media.
"It is on record that the team managed to escape relegation last season and ended up in the 18th position out of the 20 teams that participated at the just concluded football season.
"However, the crises that rocked the NFF during the season gave the automatic ticket to all the teams for the new season saved Sunshine Stars from being relegated.
"In view of these poor performances, it has become necessary to reposition the team for better performance during the forthcoming season."