World Cup
Odriozola: Spain ready to do something great and deliver on expectations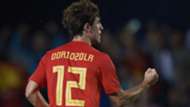 He is one of the youngest players in the Spanish national team. When Andres Iniesta scored the goal which made La Roja world champions in South Africa, Alvaro Odriozola was barely in high school. He was only 14 years old. As was Marco Asensio. Kepa Arrizabalaga and Saul Niguez were not much older.
But what makes Odriozola stand out from the rest of his team-mates is that barely a year-and-a-half ago he was playing in Segunda B. In the space of 18 months, he has risen to reach the World Cup in Russia covering a position for which there were seemingly more obvious candidates.
Odriozola's rise has been meteoric, but not all that surprising. When watching him play, it is easy to imagine that his time among the elite will be far from fleeting. That sense builds when listening to him speak. "I have not done anything in football," he tells Goal from the Spanish training base on Russian soil.
Odriozola is a humble, honest young man who is determined to make the most of the opportunities put in front of him, both at the World Cup and across his footballing future in general. He has come this far and has every intention of going even further with club and country.
Is the World Cup everything you imagined it would be?
"It's a dream to be here and experience a World Cup from within. A year-and-a-half ago I was playing in Segunda B, so you can imagine... It's very nice. It is a special environment. You see that there is that pressure to fight for a title in a short space of time, in a tournament that is only played every four years."
What is your first memory of the World Cup? Because when Spain were champions in South Africa you were only 14 years old...
"Well, the first one that came to mind was the final of Ronaldo against Germany [in 2002]. I used to go with my mother and my brother to breakfast and watch the World Cup matches in Korea."
But in 2002 you were only seven years old, right?
"Yes! But I remember it perfectly. I also have a fond recollection of when Italy won the World Cup final [in 2006], because I was in a class with two Italian guys and we were at home watching the final and they were going crazy because they had won!"
At that time you were just starting out in football - is it true that you cried the first time you played as a defender at Real Sociedad?
"Yes! But it was not at Real Sociedad. It was the first time I did football training, in my school, in Aldapeta, the Marianistas school in San Sebastian. At school I played and scored goals, I gave assists... then that first training session they put me as a defender. And I started to cry, yes. What I wanted was to score goals. Now that I'm a defender, I think it was fate."
You will have to go back and thank that coach...
"Yes! He is working at Real Sociedad now: Inigo Caminaur. We have talked about it before. Now I owe him part of my World Cup!"
What do you make of your meteoric rise?
"The key is to always want more, to improve, keep working. And never lose it, whatever you do. It is that drive that leads you to not get comfortable, to want to improve, to not believe that you have made it. Well, actually I have not done anything in football yet. You have to be humble and acknowledge that this is just a game. It's football. You shouldn't feel above everything, nor think you are better than others, just keep working. You have to have your feet on the ground. I have a privileged environment that helps me. It's not easy, everyone puts you on a pedestal and they praise you, but you have to keep a calm head and keep working to fulfill your dreams."
The other day Saul told me something similar. That in football one day you are Ronaldo or Messi, and the next day you are nobody. Is it your family that helps you to stay grounded?
"Yes. My environment is what helps me to digest successes and failures. It's fundamental. In my family we are all very close, very close, and they know how to deal with me... And my friends. I have a very close circle that has always accompanied me and given me good advice. They put everything into perspective."
Do you keep the same crew as when you played in Segunda B?
"Yes! Definitely! I see no reason to change friends or personality."
But do you notice that other people treat you differently?
"Yes, yes. I notice it a lot. People want to approach you. They are more aware of you. Let's say they love you more. That is a natural feeling of human beings, I guess. But I keep my group of friends. And football allows you to meet interesting people and they can bring nice things into your life, and you should not let that go. But without losing sight of your real friends, those who accompanied you when you were nobody."
Do you live in the centre of San Sebastian?
"Yes. My mother has a restaurant in San Sebastian. I live with my family, with my mother, my grandmother and my brother. Although I also spend a lot of time with my father during the week."
Your grandmother is a big fan of Real Sociedad...
"Yes! I have a family who loves football, and Real Sociedad! As a child, the whole family always came home to watch Real's matches. We were all together, like 20 or 25 people, without exaggerating! She has always gone to Anoeta [RSO stadium]. And now with even more reasons when I play. There was a period that she got very nervous when I played, but it's something very nice for her."
Have they been able to come to see you in Russia?
"They came to Sochi and Kazan, and now they are coming to Moscow to watch the round of 16 against Russia. It's great that they can come."
What do they say when they see you?
"They are very happy to be able to come. It is a very cool plan. Not only visiting me, but also for experiencing the World Cup, which is something extraordinary. They are very happy and very excited."
Even being at a World Cup, is it hard to be away from the family for so long?
"That's true. You miss people. Even being with them for a little bit gives you life and strength to keep working hard."
How about the life in Krasnodar? How have you been welcomed in the group, being one of the youngest?
"Great! I can only thank them for the welcome. As I am the youngest, I always have to be in the centre of the rondos [laughs]. But the people and the treatment is great. The way they are teaching me new skills. It's amazing."
Do you feel you missed your chance to play at the World Cup against Portugal?
"It is true that was the game in which I was most likely to play and it didn't happen. It is also true that it was [Julen] Lopetegui who gave me the opportunity to come and who trusted me. Maybe with the change of coach... But being 22 years old at the World Cup is very good. We all want to play. But we are all here to row in the same direction and contribute when we can."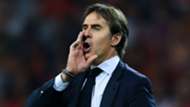 Do you think that if Lopetegui had been the coach you would have played against Portugal?
"I don't know. Nacho could have played as well. It wasn't my turn to play and I have to deal with it and work more than ever to show [Fernando] Hierro that I am also capable of playing."
Everyone wants to play, but if you had been told before the World Cup that you wouldn't, would you have come anyway?
"Definitely! Definitely! You always want to play, but experiencing a World Cup is priceless. You do not know where you will be in four years. Of course I would have come!"
A few weeks after the change on the bench, how is the team is dealing with the change?
"You have to take it as normal now. It was a peculiar moment, sad for everyone. We all loved Julen. He was our coach during the qualifying round. There was a very good group and we had picked up good feelings. It was a bit difficult at the beginning, but you have to take it as it comes. Now we will be behind Hierro. He is a great coach. We are working very well. Everything will be fine."
This is your fourth coach in a few months: Eusebio, Imanol, Lopetegui and Hierro. Can that affect or confuse you when it comes to demands on the field?
"Things didn't change that much. The philosophy is very similar from Julen to Hierro, for example. There has been continuity."
Would you like to work with Lopetegui again in your career?
"In football, you never know if one day I will meet Julen or not. The only thing that concerns me now is the World Cup. Being here at just 22 years of age means enjoying every second to the fullest. Neither my future nor anything else worries me."
Have you been looking at the World Cup draw? In principle, it seems that Spain are on the easiest side...
"That may be the case, but at a World Cup nothing is easy. It is very complicated. In principle the other side of the draw could have been tougher, but we can't look at things that way because nothing is easy. Now we have a unique opportunity to do something beautiful. We're going to fight for everything."
If the Spain squad felt any doubts after the draw against Morocco, is it possible that the draw has now given you wings?
"That's true! We left Kaliningrad with few good feelings. But as the days go by we have talked about it: we have not lost for two years, we were top of our group, a lot has happened and the group has not broken down, we are as united as ever... We're going to fly because everything we've been through has united us even more."
What is the biggest concern with Russia: their football or the fact that they are the hosts?
"Many things. They will fight to the death, they are playing at home, in Moscow, but we have to isolate ourselves from everything and give 100 per cent. Follow our path. They have been with their coach for a long time, they are compact, they know what they are doing. They will make it difficult for us, but we have to go our way. We have come here to win the World Cup."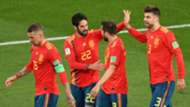 Complete the sentence: If Spain does not reach the quarter-finals...
"It would be a shame! Yes, there would be the feeling that we have missed an opportunity. This is a very good team and I think we can do something great. We really want to do something big."
You're a football fan, have you been able to watch many World Cup matches in the Spain camp?
"Yes. We have watched almost all of them, because they have coincided with lunch and dinner times."
And which teams have impressed you most so far?
"If I had to say just one, I like Brazil a lot. Maybe they have not been spectacular, but they have a very clear idea about what they do. There has not been any spectacular team, I think. But Brazil are very compact, robust and don't concede often. And furthermore, look at the quality they have in the front line. And on the negative side, I think Germany disappointed everyone a little bit. It has been shown that there are no easy matches. Just a few games have been won with superiority."
Spain seem a bit up and down. Do you need changes to alter that pattern?
"I'm not the one to say that, that's what Hierro is for. And he's a great coach. Of course, everybody knows the quality of the 'ideal' line-up that has started these games. Another thing is tiredness, or other issues. But that's what the coaching team have to decide, they are very capable."
There is a lot of talk about David de Gea, and at Real Sociedad this year you suffered a lot of rotations with the goalkeepers. How does that instability impact on footballers, especially those who are defenders?
"These are difficult times, when everyone doubts you. But I have full confidence in David. He is one of the best goalkeepers in the world for me, and for everyone, for what he has shown this season and in previous ones. We are all human and we can make mistakes. Now is when you have to trust him more than ever. The more support he feels, nothing else will matter to him. When the team, the coach trusts you, you keep moving forward. And David is going to do it. He is a great goalkeeper and great person."
And finally, at 22 years old and having broken so many barriers in such a short space of time, what is the next dream that needs to be fulfilled? Where is the next challenge?
"The next thing is to win the World Cup!"