African All Stars
Obasi vows to aid Bolton Wanderers' English Championship stay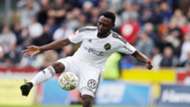 Chinedu Obasi has vowed to help Bolton Wanderers remain in the English Championship next season.
The 31-year-old joined the Macron Stadium outfit as a free agent until the end of the season on a pay as you play deal, following a successful trial at the club.
The Trotters are three places above the relegation zone with 39 points after managing to win only nine games in 38 outings.
And the Nigeria international who scored six goals in 10 appearances at his former club, Swedish outfit AIK is looking to continue on that wavelength for Phil Parkinson's men as they aim to retain their English second division slot next term.
"I want to help the team any way I can. I've always wanted to be here, to play here [in England]," Obasi told club website
"I love scoring goals and am looking forward to doing great things and helping the team.
"I'll try to do whatever I can to support the team, help the team. The most important thing is the team.
"We just have to make sure we stay in this league, that's the main focus right now."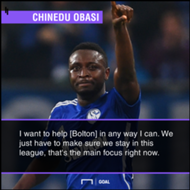 The striker also reflected on his first visit to Bolton to watch former Nigeria international Jay-Jay Okocha.
"Jay-Jay is a legend. I came here quite a long time ago to watch him, when I was about 15 or 16 with the Nigeria Under-17 national team," he said.
"Being able to play for a club that he's been with is a big pleasure for me.
"That was my first game in the UK. Then it was the Reebok Stadium, now it's the Macron Stadium but it's still the same stadium and it's great.
"It's a great honour to be here. I'm very delighted to be part of this great club.
"I will need every little support that I can get because the league is new to me, but I'll do my best.
"I'll fight for every minute to make this club proud."
The former Schalke 04 marksman will be looking to make his debut when Bolton face Leeds United on Friday.