Young Africans
Nsajigwa and Mwandila offered roles on Zahera's coaching staff at Yanga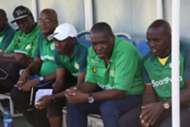 Yanga Caretaker Coaches Noel Mwandila and Shadrack Nsajigwa have been offered roles on Mwinyi Zahera's coaching staff when the Congolese becomes the next Yanga boss, Goal can exclusively reveal.
However, they could decide to end their association with club by refusing the position and depart Jangwani.
While Zahera is expected to be appointed in the next few days and Nsajigwa and Mwandila have been assured that there is a future for them at Jangwani.
Nsajigwa joined Yanga as a player 12 years ago before retiring and starting a coaching career when he started at Yanga B before replacing Juma Mwambusi as assistant coach to George Lwandamina prior to this season.
Meanwhile, Zambian, Noel Mwandila came to Yanga in 2016 alongside Lwandamina as part of his backroom staff and when his boss departed early on this month, he opted to stay with Yanga where he has successfully managed to get them into CAF Confederation Cup group stage.