NPFL
NPFL Matchday 23 Previews: Heartland keen to avoid defeat to Enugu Rangers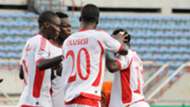 Kwara United vs FC Ifeanyi Ubah
Kwara United will strive to make it a third straight home win for the first time this season when they host FC Ifeanyi Ubah in Ilorin.
The Harmony Boys have only been beaten twice in their last 11 matches and this should have been enough to steer them away from the relegation zone but they recorded only three wins from those matches with six drawn games and two losses from the ties prosecuted by Abubakar Bala since he took over from John Obuh.
They are 17th in the league table with 26 points from 23 games and they are aware that a home win could further take them away from the drop zone with the league expected to be on break due to the 2018 World Cup which commences on June 14.
They were beaten 2-0 by the Anambra Warriors in the reverse fixture but they will hope to return to winning ways this term after their narrow loss to Wikki Tourists in Bauchi last week.
On their part, FC Ifeanyi Ubah have lost their last two home matches to Niger Tornadoes and MFM but they have remained unbeaten in their last three away matches against Enyimba, Go Round and Yobe Desert Stars. They will be out to get their fourth unbeaten away run against the Harmony Boys.
With only two points separating them from the relegation zone, the Anambra Warriors could find themselves in the drop zone if they are unable to get a positive result in Ilorin. They are currently 15th with 28 points from 23 games.
Niger Tornadoes vs Wikki Tourist
Niger Tornadoes will be seeking maximum points when they face Wikki Tourist at the Bako Kotangora Stadium, Minna after they were thrashed 2-0 by Akwa United in Uyo in their last league fixture.
They have overcome their early second round blip with the away win in Nnewi against FC Ifeanyi Ubah and have won two, drawn one and lost two of their last five encounters. They will be out to better Wikki's 1-0 home win in Jos in this fixture in Minna.
The Ikon Allah Boys will fancy a return to the top five with a home win against the Giant Elephant. They are currently seventh in the league log with 34 points from 23 matches. They are only two points away from that spot.
Wikki Tourist secured back to back wins for the first time in the top-flight this season when they beat Yobe Stars and Kwara United in their last two games played in Jos' Zaria Road Stadium. 
Their undoing has been their unproductive returns from their away matches which they have only two points to show for their efforts from 12 away matches. They are 14th in the league log with 29 points from 23 games.
Yobe Desert Stars vs Akwa United
It is three points or nothing for Yobe Desert Stars who host Akwa United in a top-flight fixture. They must halt their six matches winless streak against the Promise Keepers if they do not want to end up in the relegation zone.
Akwa United are seeking to extend their unbeaten run to seven matches when they trade tackles with Yobe Stars having managed to avoid a defeat since their 1-0 loss to Kano Pillars. They are targeting a third consecutive win in Damaturu having beaten Go Round and Niger Tornadoes in their last two fixtures.
The Promise Keepers are second with 38 points from 23 games and they will be under huge pressure to hold on to that position beyond this weekend with Kano Pillars who are third with a point behind them playing at home to Rivers United.
Go Round vs Lobi Stars
Go Round will aspire to secure their first win in three matches when they host Lobi Stars at the Krisdera Hotel Stadium, Omoku. They were pinned 1-0 each by Akwa United and Heartland in their last two away games.
Ngozi Elechi's men know what is at stake against the Pride of Benue who they must beat to stand a chance of moving out of the relegation zone if other results work to their advantage at the end of this weekend games.
For Lobi Stars, they will be approaching their tie with Go Round with utmost confidence aware that they will still remain at the driver's seat of the league even if they stumble in Omoku. 
Their recent form guide has been impressive with 10 points recorded from their last five matches. They pipped Go Round 1-0 when this fixture was first played in Makurdi in January and they will hope that their experience will be sufficient to out-do the premier league newcomers in Omoku again.
Enugu Rangers vs Heartland
Disjointed Naze Millionaires side were beaten in Owerri 1-0 in January by the Flying Antelopes and a repeat of that will mean they have succeeded in securing a double win over their illustrious rivals for the first time in recent seasons. Gbenga Ogunbote's men will hope to bounce back from their two consecutive away losses to Lobi Stars and Katsina United with a win against the Owerri side.
Rangers' home form has not been impressive as expected from a team of their status with only two wins in Enugu in their last five games but they have also acquired two points from their last five away matches. They are 10th in the league log with 30 points from 23 games.
While Heartland put an end to their seven matches' winless streak with the 1-0 home victory over Go Round, they must ensure that the Flying Antelopes didn't beat them for the second time this season on Sunday to brighten their chances of staying up in the top-flight at the end of the season.
Heartland are 20th in the league table with 19 points from 22 games.
Sunshine Stars vs Nasarawa United
Sunshine Stars kept their first clean sheet since February 11 last weekend when they held Rivers United to a goalless draw in Port Harcourt and they will be eager to repeat the trend when they face their bogey team, Nasarawa United in Akure.
Sunshine lost the first leg 2-0 in Lafia in January and they will come all out to record their third win from their last seven league matches. They will be eager to secure their second league victory against the Solid Miners from their last six confrontations if they are able to surmount them on Sunday.
The Owena Whales are 19th in the league table with 25 points from 23 games but they will be buoyed by their away point in Port Harcourt against Rivers United to help them nullify what has made Nasarawa United a tough side to beat against them.
The Solid Miners are yet to pick an away point this campaign and are 12th in the league log with 29 points from 23 games. They could use this fixture to re-launch their season if they are able to grab their first away points of the season in Akure.
Kano Pillars vs Rivers United
Kano Pillars are among the in-form teams in the top-flight after recording two consecutive away points against Nasarawa United and Abia Warriors in their last two fixtures and they will hope to top it up with a home win against Rivers United at the Sani Abacha Stadium, Kano.
Sai Masu Gida will be eyeing a return to the second spot with a win against the Pride of Rivers with the present occupant of the position (Akwa United) involved in a tough duel with Yobe Stars in Damaturu. They have lost only once in their last six games including four tough away matches against Heartland (1-1), Lobi Stars (0-1), Nasarawa United (0-0) and Abia Warriors (0-0).
They are third in the league log with 37 points from 23 games and their preparation for the tie with Rivers United got a big boost with the return of the top-flight leading marksman, Junior Lokosa. He is expected to feature for Sai Masu Gida after missing their last tie with Nasarawa United because of his involvement with the Super Eagles in the build-up to the Russia 2018 World Cup before he was dropped. 
Rivers United on their part beat Kano Pillars 2-1 to hand them their first loss of the season when this game was first played in January and it was the first time the Pride of Rivers will be beaten Sai Masu Gida since 2015. They will hope for a repeat of that result when they entertain Pillars in Kano this time.
They are unbeaten in their last five matches but have drawn two of those encounters at home. They are ninth in the league table with 33 points from 23 games.
 
Plateau United vs Abia Warriors
Plateau United suffered two straight defeats to Rivers United and El Kanemi Warriors in their last two fixtures and they will look for a reprieve when they host Abia Warriors in Jos.
They have garnered five points from their away matches thus far this season but they have been too predictable in recent matches. They have lost all their away matches since they picked a draw in Owerri against Heartland on April 19 and have even struggled in their home games. They last managed to win a league game by more than a goal margin on April 26 when they beat Kwara United 2-0 in a rescheduled league tie.
The Peace Boys will find it difficult to retain the league title they won last season with nine matches already lost and the fact that they are seven points adrift of league leaders, Lobi Stars who have 43 points as against their own 36 from 23 matches.
Abia Warriors in that vein will be desperate to extend their unbeaten run to six matches in Jos when they trade tackles with Plateau United. They tried to secure their third successive league win on the spin but they were halted by Kano Pillars who held them to a goalless draw in Umuahia.
The Warriors have been fabulous with their away results with the seven points recorded but they have not complemented that with their home form where they have lost 10 points already to opposing teams having been held five times at home.
Emmanuel Deutsch's side are eighth in the elite division with 33 points from 23 matches when they could have been second only to Lobi Stars had they not been too 'generous' at home. They pinned the Peace Boys 1-0 when the initial leg was played in Umuahia and it is expected to be the same cagey affair in Jos.
MFM vs El Kanemi Warriors
MFM surprised themselves with their first away win of the season in Nnewi against FC Ifeanyi Ubah barely three weeks after suffering the same fate in the hands of Abia Warriors in Lagos and they will hope to make it a second successive win when they host El Kanemi Warriors on Sunday.
They have succeeded in gaining four points from their away trips but they have lost seven before their fans and must seal the maximum points to stave off relegation worries talk among their fans. The Olukoya Boys are 11th in the league table with 30 points from 23 fixtures and a home win will ensure they proceed on a World Cup break guaranteed of remaining in the same position at least.
In the same development, El Kanemi Warriors are in Lagos to seek at least a point that will ensure they stay away from the drop zone. It, however, seems a tall order judging by the fact that they have only earned a point from their 11 away matches thus far.
The Borno Army are 13th in the league log with 29 points from 23 matches.