World Cup
'Not worthy of a German team' - Vogts expects shake up after shock World Cup exit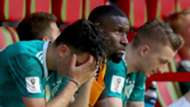 Former Germany coach Berti Vogts has delivered a scathing assessment of his country's performance at the World Cup, suggesting that many of the players don't deserve to play for the national team.
The four-time world champions were knocked out of the tournament after suffering defeats against Mexico and South Korea - the first time they have not made it past the first round since 1938.
A 2-0 defeat in their final game against South Korea meant that Germany finished rock bottom of Group F with Sweden finishing first and Mexico securing the runners-up spot.
And Vogts, who steered Germany to European Championship glory in 1996, has reacted with ire to his nation's showing in Russia.
"I assume that the German Football Association will part with many players as they do not deserve to continue to play for our national team," the 71-year-old told Eurosport .
"That was not worthy of a German team. They have shown no will, it was all too slow."
As reigning champions, Germany were one of the favourites, alongside Brazil, to win this year's World Cup.
Having disappointed in Russia, serious questions are now being asked by those surrounding the Germany camp - pundits, fans and ex-players alike - to get an idea of why it went so wrong for them.
However, despite the poor performance, Vogts has revealed that he still trusts Joachim Low to lead the national team moving forward.
The long-serving head coach is expected to stay on in his role , despite the concerns that have arisen as a result of his team's shock World Cup elimination.
Vogts – who won the 1974 World Cup as a player – believes that Germany need to look at their successful Under-21 team, who won the U-21 European Championship in 2017, to create a completely new side moving forward.
He added: "We have to build a new team, the people in charge know each other well in football and they have hopefully seen which players are no longer going to belong in the team."