Juventus v Internazionale
New-look Juventus prove themselves Champions League contenders with Derby d'Italia win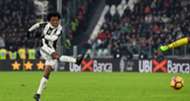 ---
COMMENT
---
Juan Cuadrado never needs an excuse to smile. "Why am I always happy? I was made like this," he told La Repubblica last week. "And the fact that I'm Colombian helps because South Americans are cheerful in nature - Colombians most of all.
"The Italians have a different culture; they are very concentrated. But Brazil have won five World Cups singing and dancing, right? It is not the case that if you listen to music, make jokes of if you smile, then you're not thinking about the game."
Juve triumph in Derby d'Italia
Indeed, if anything, Cuadrado often thought too much about the game - and what he wanted to do within it. Juventus boss Massimiliano Allegri is just the latest in a string of coaches to call the Colombian on his propensity for procrastination.
Cuadrado is finally listening, though. Certainly, he didn't think twice about what to do with a ball that bounced invitingly for him just outside the Inter area during the closing seconds of an absorbing first half in Sunday's Derby d'Italia.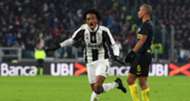 Cuadrado immediately advanced and sent a first-time shot flying past Samir Handanovic, who was beaten all ends up by the sheer speed of the strike. It was his first top-flight goal since April 2016 and, Cuadrado being Cuadrado, he responded with a little dance for the camera over by the right corner flag.
And why not? The former Chelsea man is enjoying his football at the moment but then, so are all of his team-mates. A Juve side that appeared to be sleepwalking its way towards a sixth successive Scudetto has been revitalised by Allegri's bold decision to switch to a 4-2-3-1 for this month's Serie A clash with in-form Lazio.
Even director Beppe Marotta admitted before the game in Turin that he was "curious" to see how a Bianconeri side packed with attackers would perform. He needn't have worried. Despite fielding Gonzalo Higuain, Paulo Dybala, Mario Mandzukic, Cuadrado and Miralem Pjanic in the same starting 11, the Old Lady not only looked more potent in attack but also more solid at the back.
"I think it's a good system, which takes advantage of all the quality we have up front," Mandzukic enthused. "When it comes to defending we all defend together. There's balance."
That balance was again in evidence in Sunday's 1-0 win over an impressive Inter side. Mandzukic once more showed the advantage in having a centre-forward playing as a winger. Inter had specifically switched to three at the back to counter the Croat's aerial threat but Mandzukic beat Jeison Murillo in the air twice in the first-half alone.
On the first occasion, Mandzukic's knockdown was acrobatically volleyed towards goal by Dybala only for Samir Handanovic to pull off a spectacular save. Shortly before the break, Mandzukic headed Cuadrado's cross just wide, after muscling Murillo out of his way at the back post.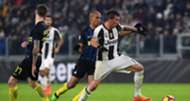 Dybala, meanwhile, illustrated just how dangerous he can be in the pocket by clipping the top of the bar with an ingenious effort from outside the area, after being teed up by Miralem Pjanic. The former Palermo starlet also linked well with Higuain, who went close to making it 2-0 with just over 10 minutes remaining, after being slipped into space by his compatriot.
One imagines, though, that Allegri will be even more enthused by Juve's defensive work. Inter had their chances, particularly during an accomplished and adventurous first-half showing, with Roberto Gagliardini, Icardi and Ivan Perisic all going close. The Nerazzurri had more shots on the Bianconeri goal (12) than any other side so far this season.
However, the fact of the matter is that since switching to 4-2-3-1, Juve have won their third successive Serie A game without conceding a goal - and done so against a side that had arrived in Turin on the back of seven successive league wins.
RUMOURS: Huge Inter offer for Conte
Victory also means that Juve have taken yet another considerable step towards that historic sixth consecutive Scudetto but, of arguably greater importance, is the possibility that Allegri might just have come up with a formation capable of conquering Europe.
"We can use the 4-2-3-1 against Inter, Real Madrid or Barcelona," defender Giorgio Chiellini enthused ahead of the Derby d'Italia, "although you have to be in good shape physically to sacrifice yourself.
"However, it's more than just a technical issue. Allegri was really smart to find this new system because we needed something to shake us up."
And put a smile back on the players' faces. The benefits of the formation chance have been both tactical and psychological. Who knows? With Cuadrado leading the way, Allegri's Juve might just be able to sing and dance their way to Champions League glory.