Tottenham Hotspur
UEFA Champions League Netbusters: All Tottenham Hotspur goals so far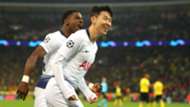 Tottenham Hotspur have come up with some captivating performances to stay alive in the UEFA Champions League, with the competition set to enter the quarter-final phase.
Mauricio Pochettino's team had to make a late charge to come through as the second-placed team from their group as they sneaked past Inter Milan. Then they stepped their game up, outgunning Borussia Dortmund 4-0 on aggregate in the Round of 16 which included a comprehensive 3-0 win in the first leg at home.
They have been firing when it matters and have scored 13 goals in the Champions League alone.
As expected, Harry Kane is their topscorer (5 goals), with Lucas Moura and Christian Eriksen (2 goals each) following.
Spurs now gear up to face the might of Manchester City in the quarter-final.