NPFL
Nelson Esor closes in on Rivers United deal after Enyimba snub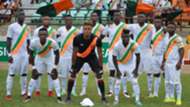 Go Round's Nelson Esor is on the verge of sealing a move to Rivers United after turning his back on former Nigeria Professional Football League champions Enyimba.
Esor trained with the People's Elephant for few days but he revealed that he has left the camp of the Aba side and he is presently close to a deal with the Pride of Rivers.
"I have left Enyimba and I am now with Rivers United," Esor told Goal.
"There are some difficult decisions one has to take for his career and I am happy that I took that decision because I don't want to remain in a club that I will only part of the squad. I enjoy playing regularly when I am fit.
"Rivers United and other few clubs have been inundating me with offers and I can say that I am very happy to play for them. I have already agreed on personal terms and I am looking forward to Rivers United reaching an accord with Go Round which I am still contracted to."
Esor, who doubled as the skipper of Go Round in their debut season in the top-flight, hopes to reunite with ex-teammate Adeseun Adelani who recently completed a deal to Rivers United.