CAF Champions League
Musa Mohammed and Duncan Otieno in South Africa with Nkana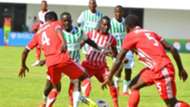 Musa Mohammed and Duncan Otieno are among the 26-member squad of Nkana FC that has pitched camp in South Africa ahead of the first leg of the 2018/19 CAF Champions League.
Nkana will take on the Mozambican side FC in the first preliminary round on Wednesday in Beira.
The former Gor Mahia skipper and Harambee Stars defender is an integral part at Nkana squad since his arrival from Albanian side FK Tirana in June.
Otieno, on the other hand, moved to Zambia in October from Kenyan Premier League side AFC Leopards.
Nkana head coach Beston Chambeshi will use the Johannesburg camp to prepare for both the continental as well at the start of the Zambian Premier League campaign.
Chambeshi urged the players to be more focused and disciplined during the camping period in South Africa. "I wish to welcome all new players in the team and we are all looking forward to working together with the rest of the team.
"It's my hope that you will add value to the team drawing from your experiences from your respective previous clubs," Chambeshi said.
Full squad:
Goalkeepers: Allan Chibwe, Moses Mapulanga, Kelvin Malunga; Defenders: Hassan Ramadhani, Gift Zulu, Laison Thole, Ben Adama Banh, Joseph Musonda, Musa Mohammed, Richard Ocran, Given Sinyangwe; Midfielders: Duncan Otieno, Shadrick Malambo, Yannick Mulenda, Jacob Ngulube, Harrison Chisala, Kelvin Mubanga Kampamba, Shadrick Musonda, Freddy Tshimenga, Simon Bwalya, Bwalya Kasonde, Chisamba Lungu, Obed Masumbuko; Strikers: Walter B Sabwa Bwalya, Ronald Kampamba,Festus Mbewe.