Manchester United
Mourinho's Man Utd monsters suddenly the scariest team in the Premier League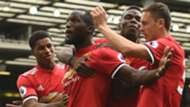 ---
COMMENT
---
Over the last couple of seasons, Manchester United have been the most welcoming of opponents. Under Louis van Gaal they would pass the ball around endlessly with absolutely zero penetration, while Jose Mourinho's first season in charge was punctured with performances of decent intent but without any kind of edge.
One game into their 2017-18 Premier League campaign they look like a markedly different animal. In the space of a couple of months during the off-season Mourinho's United has evolved from a side full of weaknesses into a well-oiled machine of incredible stature.
The additions of Romelu Lukaku, Nemanja Matic and Victor Lindelof have made the Red Devils an all-together more imposing prospect physically, while their increased athleticism cannot be overlooked. Their 4-0 victory over West Ham United at Old Trafford, even accounting for the absence of Lindelof of the new signings, was gleaming with the kind of characteristics which Mourinho loves to have in his squads.
During Van Gaal's reign, and in stages last season, United's attempt to stay with the Premier League's leading pack resembled Sylvester Stallone wheezing his way through the streets of Philadelphia in the first film of the Rocky franchise. But against West Ham they took on the appearance of Balboa's powerful charge up the famous Rocky steps in the sequel on his way to claiming the world title.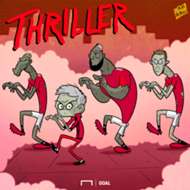 Even beyond the impacts made by Lukaku and Matic, Paul Pogba seemed to have grown a few inches metaphorically and there was generally a far more beastly presence about the United side compared to 12 months ago. At no stage in 2016-17 did opposition sides truly fear Manchester United, but they now looked like a monstrous machine in comparison.
Make no mistake about it, this is now Mourinho's side. He may have moaned during the course of last year about the stunted pre-season campaign, the physical condition of the players he inherited and the inability to dominate opponents at Old Trafford but he has no excuses this time around.
That is the way he has liked it in the past, though. In every one of his previous coaching stints, Mourinho has been a league winner in his second season in charge. At Porto, Chelsea (twice), Inter and Real Madrid, his sophomore campaign has seen him end at the top of the tree, and the early signs at Manchester United suggest that he could be about to make it six out of six.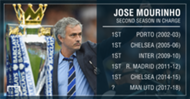 Of course, this was only the first of 38 games in the league this term and the clash with Swansea on Saturday offers a reminder of a failed new dawn from United's recent history. It was on the opening day of 2013-14 that David Moyes led the side to a 4-1 win at the Liberty Stadium, but within eight months he was on his way out. Mourinho will demand a better follow-up to the West Ham win.
"We had good tactical discipline in the team, a good clean sheet, good football, a good dynamic in attack, four goals," he said of the West Ham result. "We were leading 1-0 and kept playing to try to score more goals and to play well. I liked it a lot!
"I liked also that the three subs, who are normally disappointed to be on the bench, came on to the pitch and they performed at the same level. And when I look even to the stands and I have there even good players that I didn't select, I am happy.
"But last season we started with three matches, nine points… and we finished sixth. So after a good first day I am not going to lose my stability, my discipline and let the players think differently from myself."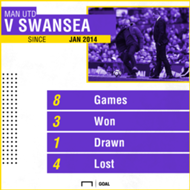 United don't have the best of recent records against Swansea, most recently blowing a controversial lead at Old Trafford in April as Paul Clement's side gained an important point in their late burst to Premier League survival.
That draw, their 10th at Old Trafford last season, was symptomatic of United's failures in Mourinho's first season. But if their performance at the Liberty Stadium on Saturday is anything like the one which opened their campaign in style last weekend, United could make another major statement as they go about continuing the manager's run of second-season successes.