Napoli v Juventus
More unmissable than Gomorra! Napoli can show Juventus they have substance as well as style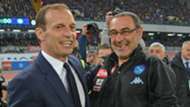 Napoli coach Maurizio Sarri and his players have been doing their utmost to play down the significance of Friday's Serie A showdown with Juventus since last week.
Napoli 23/20 favs with dabblebet
However, for the fans, the game at the San Paolo is simply unmissable. So, when Partenopei supporters learned that the fixture had been brought forward to give both sides an extra day to prepare for their respective Champions League assignments, they were gripped with fear.
A Friday night kick-off meant a clash with 'Gomorra', the Naples-based drama series that has become a global phenomenon. As a result, Sky Italia was inundated with requests from desperate Napoli fans begging them to reschedule the release of the next two episodes of the gritty crime show.
The broadcaster complied, agreeing to make them available on the morning of the game, meaning that the only thing that the supporters now have to worry about is beating Juventus - which will be easier said than done, of course.
The Bianconeri have won the last six Scudetti and have lost just one of their last six Serie A meetings with the Partenopei. 
Since Maurizio Sarri took charge of Napoli in 2015, it has been widely accepted that Napoli have played the best football in Italy but it is Juve who remain champions.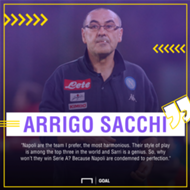 Arrigo Sacchi put it best when he previewed the 2017-18 season by saying, "Juventus will win the Scudetto again because they have the advantage of having a superior character.
"In fact, I'll correct myself: Juve can only lose it. Napoli are the team I prefer, the most harmonious. Their style of play is among the top three in the world, and Sarri is a genius.
"So, why won't they win? Because Napoli are condemned to perfection. They have an exceptional collective, ideas and quality, but as individuals, they lack physical strength, experience and history.
"When it comes to gritting your teeth in the difficult moments, you need leaders."
Essentially, the prevailing pre-season opinion in Italy was that all the Partenopei's style, they lacked substance.
That perception is changing, though. 
Over three months into the current campaign, Napoli are unbeaten, having won 12 games and drawn just two - only Juve, in 2005-06, have ever made a better start to a Serie A season, with 39 points from 14 games.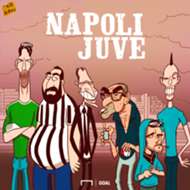 Furthermore, for all their attacking excellence, their success has been founded upon a rock-solid defence. Indeed, while the Partenopei have scored 35 times (only Juve have netted more), they have conceded just nine goals.
The most aesthetically beautiful team in Italy have learned to win ugly, as last weekend's 1-0 victory over Udinese so perfectly illustrated.
"We used to struggle more in previous years during games like this," Sarri said after seeing Jorginho secure all three points with a penalty.
"It was a good training session for defending, holding out and controlling the ball. We showed less quality than usual, but that was inevitable, as the pitch was in horrible condition and barely qualified to play top flight football on.
"But it looks as if the improvement we can make this season is to win ugly games and that allows us to get the results we need even when not playing particularly well."
They will need to play particularly well on Friday, though. Juve are Napoli's bête noire. They have lost more matches and conceded more goals against the Bianconeri than any other Serie A side. Even more worryingly, they have won just two of their last 12 games against the Old Lady. 
However, Napoli might just be catching Juve at precisely the right time.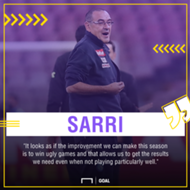 Juve are scoring freely - only twice before in the club's history have they better their tally of 40 goals after 14 games - but Mario Mandzukic has already been ruled out through injury, while €90 million striker Gonzalo Higuain is a major doubt for the game against his former club after undergoing surgery on a broken hand last week and will only make the bench at best.
In addition, the Bianconeri's famed defence no longer looks quite so impenetrable. 
On Monday evening, four of Juve's back five from last season were named in the Gran Gala del Calcio's Team of 2017 - yet two of the quartet are no longer at the club: Dani Alves and Leonardo Bonucci.
Alex Sandro, meanwhile, has experienced a dramatic dip in form that has mystified all and sundry in Turin.
The evergreen Gigi Buffon remains ever-reliable, while Giorgio Chiellini has been declared fit to play after missing Juve's last two games with a thigh problem.
However, the fact remains that the Bianconeri have already conceded more goals (14) than any of their title rivals so far this season: Napoli, Inter (10) and Roma (9).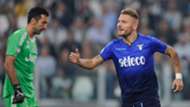 They have been blighted by lapses in concentration that both Chiellini and coach Massimiliano Allegri have referred to as "blackouts", resulting in shock losses at home to Lazio and away to Sampdoria. 
Napoli, by contrast, have experienced no such dips, at least not in domestic competition.
"To be honest," Sarri mused last month, after the Partenopei's loss to Manchester City, "I see my team more motivated in Serie A compared to Europe. 
"We played at a high level of determination for 95 minutes, whereas in Manchester it was for 55 minutes.
"The feeling I get is that the players care more about Serie A."
The fans certainly feel the same way. They wouldn't miss the visit of Juventus for the world - or even 'Gomorra'.