Olivier Giroud
Morata will come good but Giroud should be starting for Chelsea, says Sutton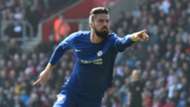 Chris Sutton believes that Olivier Giroud has earned his starting spot in the upcoming FA Cup semi-final ahead of Alvaro Morata, but he also thinks that the Spain international will come good.
Giroud's two goals at the weekend sparked a comeback win against Southampton as they turned a 2-0 deficit into a 3-2 win. Morata was subbed off early for the second match in a row against Burnley, after starting in a front two with Giroud and apologised after venting his frustration on the bench.
Morata got over his 13 game goal drought with two goals in two games recently, but Sutton thinks that Giroud's timely performances could see him start as the main striker for the remainder of the season.
"It will be interesting to see which way Antonio Conte goes. After those two goals against Southampton, I think he will go with Giroud off the back of that," Sutton told Goal. "I think he has the edge and that will be in the back of the Southampton player's minds. He has been uncertain about who the best striker to go with is really.
"At times it has been Morata or Giroud or neither of them and Chelsea aren't the same force. I think Giroud might get the nod in this particular game."
Sutton is no stranger to struggles in a blue shirt, having had the worst spell of his career at Chelsea after a £10 million move from Blackburn Rovers, a club where he was both a Premier League winner and a golden boot winner.
Morata has still managed 14 goals this season despite disappointing some with some periods of bad form. Sutton, who got only three goals in his 39 games at Stamford Bridge, thinks that Morata has the quality to come good, even if he lacks confidence at the moment.
"I don't think Morata was as bad as me [at Chelsea]! Not really," Sutton continued. "I thought he started the season well and he is an accomplished player. You can't play for the clubs that he played for without having something about you. As a striker in the Premier League it is brutal. You have to score goals and contribute.
"The eyes of the world are on you and everybody analyses your game to the nth degree and that has always been the issue at big clubs and at Chelsea. They have faith in him to invest that sort of money. They want a return on that and that's not unreasonable. Now with Giroud, he has severe competition for his place and that can only be a good thing.
"He started the season exceptionally well and then he lost form and confidence. In terms of who is the main man? It is a fight for that place. I am a big fan of Olivier Giroud and I think that Arsenal got it badly wrong to sell him and he will push Morata all the way. I think that it is good.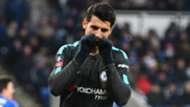 "They are both really capable players. I don't think there's anyone who out-and-out justifies that position at the moment. It is healthy competition between two players who are fighting it out for that spot. I think that's what Chelsea hope. I think for Morata this season is the most amount of games that he has started in his career and that's why there has been this dip.
"Depending on what happens over the summer whether Conte leaves and a new manager comes in, they will still want Morata to show more consistency. Mentality is a big part. Morata lost confidence and I lost confidence when I was at Chelsea. You have to find a way to get your confidence back.
"I did it through training and repetition. You have those little bits of doubt but it comes because you care and you want to do well. There's a player in there and we have seen it. We just haven't seen it consistently enough."
Sutton moved on after a season at Chelsea and he successfully went on to rebuild his career at Celtic.
He now works on BT Sport as a football expert and will be at Chelsea's semi-final match at Wembley, as his former club take on Southampton. He thinks that Conte wants to go out on a high by winning the competition and expects Chelsea will continue their rapid hiring and firing strategy after he is gone.
"I think what it would do for Chelsea, it would be a good end to a season which has been full of turbulence and having underachieved, in terms of what they did last season, but it is a prestigious trophy and a big trophy," He continued. "It looks like Antonio Conte is not going to be there next season so it would be big for him, if he left the club on a high.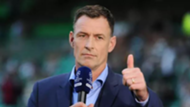 "I don't think that has any effect on the players. Whatever the situation is between the manager and the club, as players you go in and train with the instructions that the manager gives you. It is as simple as that. It is a pretty lame excuse, if the players were to use that as an excuse but I don't think the Chelsea players have and that's all you do as a player and concentrate on the job at hand.
"The manager situation won't effect the players. I think Chelsea is a club that has huge aspirations of winning big titles. When Antonio Conte went in he did an unbelievable job, to go from tenth to win a Premier League title. Chelsea have had that approach where managers aren't in the club for the long-term and I don't think that is going to change."
Watch Chelsea v Southampton tomorrow on BT Sport 1 from 2:30pm. BT Sport is where the best go head to head, bringing you live coverage of the Premier League and Emirates FA Cup. For more information, visit www.BT.com/sport