Real Madrid
Morata: Playing for Madrid 'the greatest sensation one can feel'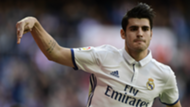 Alvaro Morata has described playing for Real Madrid at the Bernabeu as "the greatest sensation that one can feel".
The new Pogba? Inter's Gagliardini just taking hype in his stride
The striker came through the youth set-up at Los Blancos and emerged in the first-team, winning the La Liga title in 2012 under Jose Mourinho.
He subsequently moved on to Juventus where he played for two seasons and won consecutive Serie A trophies, before Madrid took up their option to re-sign him last summer.
And though Morata maintains that the Bianconeri have a place in his heart, he reiterated that few things compare to playing for Real.
"As a child I went with my parents and my family to the Bernabeu," Morata told reporters. "I remember that one day we were watching El Clasico I said to my father: 'Someday I will play here.'
"As it turned out, I did, and it was the greatest sensation that one can feel.
Man Utd must make Griezmann their next Pogba-esque signing
"It's true that Juventus have an incredible stadium too, but this is the Bernabeu, you just see photos and you get goosebumps. It was my dream, and I was lucky enough to achieve it."
The 24-year-old has forced himself into Spain's plans as well, being part of a new generation tasked with leading a revival of their footballing fortunes.
But while eager to taste success on the international stage, Morata warns that it will be difficult to match the crop that won successive European Championships as well as the nation's first World Cup between 2008 and 2012.
"I have been fortunate to win titles at Real Madrid and Juventus," he continued. "But my life's dream, apart from lifting the Champions League again with Real Madrid, would be to win anything with the national team.
"I would love to win something with the national team, although I know it's difficult, because you cannot improve on what that phenomenal generation has done."