PSL
Mobara promises an improved Orlando Pirates next season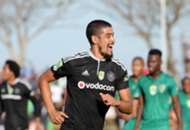 Orlando Pirates defender Abbubaker Mobara says his debut season following his move from Ajax Cape Town has not been as bad as some have made it out to be.
"Bad remarks will come out, because of the bad season we had but I think overall, outside the football, the way Pirates welcomed me into the team has been amazing," Mobara told The Sowetan.
Bucs finished outside of the top eight for the first time in the PSL era and the club also lost in the Nedbank Cup final to SuperSport United in Durban a few weeks ago.
Mobara promises the Bucs faithful a different display next season.
"Football is like this and we just have to accept it and look forward to next season," Mobara said.
The 23-year-old versatile player ended his season with a personal piece of silverware as he clinched the Nedbank Cup Player of the Tournament at Monday's PSL Awards.
"It's a big relief to win this award after the season we've had," he added.
"We did badly this season and it is not something we should be happy about, but to win an individual (award) is something that some will say is bittersweet," he stressed.
"I personally think it is a good feeling and it is things like this that motivate you to come back to win more," Mobara concluded.