Transfers
Mitrovic happy to stay at Fulham after promotion to the Premier League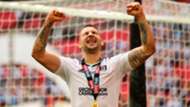 Aleksandar Mitrovic has admitted that he would happily leave Newcastle United to move to Fulham permanently after helping his side get promoted to the Premier League in the Championship play-off final.
The Serbia international joined the Cottagers on loan in January and his 12 league goals in 16 starts were instrumental to helping his side to a 23-match unbeaten run.
Mitrovic, whose loan deal expires at the end of June, was delighted with his side's 1-0 victory over Aston Villa, and hinted that he would be interested in a long-term move to west London after triumphing in 2017-18.
"We have players who give good balls and it makes it much easier to score and I have to thank my team mates," Mitrovic said. "We have to see what happens first but I would be happy to stay. We will see what happens, I will speak with my agent, I will speak with the club and we will see.
"Of course, for this short time I have so much memories. I lost just two games and Fulham went 23 games unbeaten. I had an unbelievable time here. I enjoyed it and I say, I would like to stay but I am still a Newcastle United player. I have to go back there and see what happens.
"I have played the best football of my career here. It is a credit and thanks to the staff and players, everyone at Fulham for that. They supported me a lot and from the first moment I felt like I was here for years. It has been an unbelievable journey, for sure.
"Maybe [it is a better fit than Newcastle]. I had maybe more game time too, just on the pitch more. I am really happy that I have had a really good four months. [Fulham manager Slavisa] Jokanovic got the best out of me and the best out of this team."
Fulham had narrowly missed out on automatic promotion after a final-day defeat to Birmingham City, but they managed to rally again to win the play-offs under ambitious leadership from their owner Shad Khan.
Mitrovic joined Fulham having only scored once for Newcastle in the first six months of the season, as Rafael Benitez sidelined his striker in favour of other options. The Serbia international said he hadn't lost confidence and praised his side for battling to the Premier League after going down to 10 men on Saturday.
"I am not bothered what people say, you have always different opinions. I am not bothered," he added. "I try to give everything I have, both in training and the games. To give the best I can, sometimes you will be brilliant or not.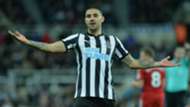 "Sometimes I score, sometimes I don't, so people are here to judge but I know my qualities and I try to give everything to win and help my team-mates. I tried to breathe on the pitch but I couldn't because I was so tired. We were down to 10 men after 70 minutes, that last 20 minutes felt like hours.
"You can make a mistake [like Denis Odoi who got sent off], but he was a hero in the last game. This is why we are here because we fight for each other and in the end we won together."