Ben Davis
MINDEF's rejection of Ben Davis' application for NS deferment is a self-inflicted blow on Singapore football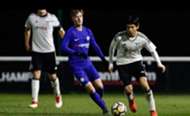 He became the first Singaporean to sign a professional contract with a top-tier English club, Fulham, and Benjamin Davis must have been feeling immense joy at such an achievement. However that immense joy is set to turn into sheer despair after Singapore's Ministry of Defence's rejected his application for deferment from National Service.
This latest backwards step from the state underlines greatly why local football has reached a nadir in recent years. At a time football where Singaporeans are disinterested in the state of affairs of our league and national team, this was the only positive piece of news that gave them hope.
And now this hope has been expertly extinguished by the high-level authorities with their myopic policies. Time and time again athletes in this country have been robbed of their sporting potential to serve the nation.
But maybe it's time they rethink those ways. How about now instead of our athletes serving the state, why can't it be the other way around and have the state serve and support our athletes? In the case of Ben Davis, this is what is exactly needed rather than just exercising rigidity, at an irrational moment.
In this country there have always been questions as to who is the next Fandi Ahmad or V. Sundramoorthy. Or even how can we nurture the next Fandi or Sundram? But to nurture a footballing talent takes time and time must be given instead of robbed.
I remember Albirex Niigata's Adam Swandi telling me how if it weren't for national service he could be plying his trade in France with FC Metz after impressing the scouts, during his stint there. Unfortunately reality prevailed and his dreams of playing at the highest level in Europe remain as that.
How is Singapore going to better its football when potential players know that their dreams can never be supported by the state. In fact look at the recent AFF-U19 Asean Championships where we became the whipping boys, and to add insult to injury, even Laos managed to put five past us.
Combine that humiliation with a local league that is struggling to attract fans and sponsorship, and you have a very grim picture of the future of football in this country. However it is not all doom and gloom as the rot can be stopped through swift action.
Indeed that first move of swift action at this present moment can be to support Ben Davis and allow him to pursue his footballing dreams. Perhaps this could be the first step that regains Singapore's footballing pride, promise and the public's confidence in its players.