Orlando Pirates v Mamelodi Sundowns
Milutin Sredojevic: Small details will decide Orlando Pirates' clash with Mamelodi Sundowns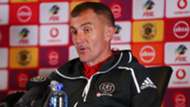 Orlando Pirates head coach Milutin 'Micho' Sredojevic predicts that their clash with Mamelodi Sundowns will be decided by small details.

The Buccaneers are scheduled to host the Brazilians in a top of the Premier Soccer League (PSL) log encounter at the Orlando Stadium on Monday.

Micho explained that the encounter is a six-pointer with Pirates placed third on the league standings - three points behind log leaders, Sundowns.

"Look, this one of the seven remaining matches. It is very important. It is a six-pointer. It comes after the Fifa break and it is very unpredictable," Sredojevic told SAFM.

"No one has ever won a match by talking (before the game). We are doing the best possible preparations knowing that matches against Sundowns always need special attention to details," he continued.

"It will be a very tough match against a very good team with top players and top coach on the opposite bench," the 2016 Caf Coach of the Year nominee added.

The Serbian coach is banking on the support from the Bucs fans with the Soweto giants having failed to defeat Sundowns at home since 2011.

"I believe that it will be a public holiday in South African football. I would like to invite all of our supporters to come and give us support because that player number 12 at the Orlando Stadium will be the factor," he said.

"Small details will decide the match. We want to bring those details to our side. Player number 12 (fans) as it has been throughout this season, they have always been with us through thick and thin," Micho indicated.

"I would like to thank them. We really feel their support and we will do our best in the upcoming match," Sredojevic concluded.