Transfers
Mexico center back Alanis released by Getafe without playing a single minute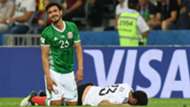 Mexico center-back Oswaldo Alanis has been released from his contract with Getafe in the same transfer window during which he signed with the La Liga side.
The left-footed defender was eager to try his luck in Europe for the first time but is leaving Getafe without playing a single minute with the club after signing there in May.
"Oswaldo Alanis Pantoja and Getafe FC have arrived at an agreement allowing the footballer to no longer belong to the Azulona entity. From Getafe, we wish him the best in his new sporting path," the club announced in an official statement released Monday.
The announcement wasn't a shock. The club's new sporting director, Nicolas Rodriguez, said last month that Alanis wasn't in the plans for him or the club. It allows the defender to become a free agent and see out a transfer on his own.
"A possible departure for Alanis is being worked on. It's clear we have an overbooking in defense," Rodriguez said on August 8. "We have three left center-backs and are looking for a destination for Oswaldo."
Now, the 29-year-old is free to negotiate with clubs on his own before the close of the month, with the transfer window still open in most European leagues. His status as a free agent also would allow him to sign with an MLS club or return to Liga MX.
His former club, Chivas, expressed a willingness to take him back, but Alanis has said he's not interested in a return. He missed the start of the season in January after a contract dispute with the team. Chivas wanted him to sign a contract extension before selling the player to Europe in order to recoup a fee, something that is common practice in Mexico.
However, Alanis realized that would give him far fewer options in Europe and refused to sign a new deal. Even if he should return to Mexico, the country's 'pacto de caballeros' or gentlemen's agreement would dictate the team signing Alanis would need to pay Chivas a fee.
Mexico's newly formed players' association has fought against that policy, so a return to Liga MX may be a test of how much the players have accomplished; however, Alanis has indicated his dream is to still find a club in Europe where he can get playing time.