Barcelona
Messi continues Copa del Rey domination with double against Celta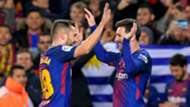 Lionel Messi continued his unstoppable form in the Copa del Rey with two more goals and an assist against Celta de Vigo as his Barcelona side rolled to a 5-0 win in the second leg of round of 16 clash. 
The Argentine's scoring exploits are nothing new, but his form in the Spanish cup competition is outstanding even by his lofty standards. 
Messi has now accounted for 24 goals in his last 14 matches in the competition, racking up 14 goals and 10 assists. 
1 - Lionel Messi has had a hand in 24 goals in his last 14 games in the Copa del Rey (14 goals and 10 assists). Monarch. pic.twitter.com/X3wYUnlzJ4

— OptaJose (@OptaJose) January 11, 2018
The two goals on Thursday were enough to move the Barca star into the competition's all-time top 10 scorers, with 46 goals to his name. 
⚽ With those two goals #Messi now has 46 in the Copa del Rey and moves into the all time 🔝🔟 👏 Well done, Leo! 👏 1⃣ Zarra 81⚽ 2⃣ Samitier 69⚽ 3⃣ Gorostiza 62⚽ 4⃣ Quini 55⚽ 5⃣ Mundo 52⚽ 6⃣ Kubala 49⚽ 7⃣ Puskas 49⚽ 8⃣ Santillana 48⚽ 9⃣ César 47⚽ 🔟 Messi 46⚽ pic.twitter.com/pwxXCZhxCR

— FC Barcelona (@FCBarcelona) January 11, 2018
Messi wasn't alone in dominating Celta however. 
Jordi Alba played a major part in the win for the Spanish giants, accounting for three goals with two assists and a tally of his own. 
It is the first time in his career with the Catalan club that the left-back has accounted for three goals in a single game. 
3 - Jordi Alba has been involved in three goals in the same game for the first time for Barcelona in all competitions (one goal and two assists). Jet. pic.twitter.com/dQ6YdPhRGw

— OptaJose (@OptaJose) January 11, 2018
Both of Alba's assists went to Messi, with his goal supplied by the Argentine. 
That shouldn't come as any sort of surprise though. Alba has more assists to Messi this season than any other player on Barcelona's roster. 
7 - Jordi Alba es el jugador que más asistencias ha dado a Lionel Messi esta temporada en todas las competiciones. Imán. pic.twitter.com/d0iKKANtnE

— OptaJose (@OptaJose) January 11, 2018
"It's a luxury to have Leo in the side, he's the best in history," Alba told Gol Television.
"We always look for each other to score goals and today we have done it twice."
Messi was taken out of the match at the hour mark with his side comfortably ahead, possibly stopping him and Alba from adding to that total, but the Spaniard hopes the pair can continue to link for years to come.
"I hope we have Leo for a while, he has been at a spectacular level for 12 years," he said.
"We hope he will continue having them and that the fans will enjoy it."
Barcelona will return to action Sunday with a Liga clash against Real Sociedad.