Meet "Coach Veron", Outreach Manager and U14 Head Coach at Young Bafana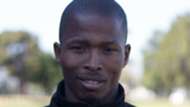 Veron was born in the Eastern Cape. He started his playing career at Young Chiefs in Lwandle in the local LFA before moving on to play for the Helderberg Sports Academy as a teenager.
At the age of 17, he signed with Kuilsriver in the local second division.
After a very successful season in the second division, he moved to Mpumalanga to play for Batau in the National First Division.
Whilst up country he played two seasons in Thembisa for Altea Mvela.
Veron has always been a passionate player, ferocious, tenacious and a born goal-scorer on the field.
Before he knew it, he was full time and entering his U13 team into the Cape Town Tygerberg League.