Premier League
McGregor & Mayweather have got nothing on Zlatan, Mourinho & Maradona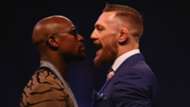 ---
COMMENT
---
On Saturday night in Las Vegas, Floyd Mayweather will take on Conor McGregor in what is set to become the most lucrative bout in boxing history.
The idea of pitting one of the finest pugilists of all time against an MMA champion generated huge controversy even before the contest was officially confirmed but things have jumped up several notches in recent weeks, with the pair becoming embroiled in a heated war of words.
Of course, such trash-talk is nothing new for the fight game but it is worth pointing out that footballers and coaches can be just as acerbic when it comes to discussing opponents, rivals and former team-mates, clubs and coaches.
Below, Goal runs through some of the most vicious verbal volleys in the history of the beautiful game...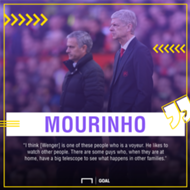 "I think he is one of these people who is a voyeur. He likes to watch other people. There are some guys who, when they are at home, have a big telescope to see what happens in other families. He speaks, speaks, speaks about Chelsea."
In alluding to repulsive insults aimed at Arsenal boss Arsene Wenger, Jose Mourinho steps so far over the line that the line is a dot to him.
 "What [John] Carew does with a football, I can do with an orange."
- John Carew should have known better than to pick a verbal fight with Zlatan Ibrahimovic by suggesting the Swede's tricks and flicks were "pointless".
"What do you want me to say? He debuted with a lad."
After Pele queries whether a man with Diego Maradona's history of drug problems can be really considered a good role model for children, the Argentine drags their ongoing feud into the gutter with a reference to his rival's sexual history.
"Football is made up of subjective feeling, of suggestion and, in that, Anfield is unbeatable. Put a shit hanging from a stick in the middle of this passionate, crazy stadium and there are people who will tell you it's a work of art. It's not: it's a shit hanging from a stick."
Jorge Valdano did not enjoy the Champions League clashes between Rafael Benitez's Liverpool and Jose Mourinho's Chelsea.
​Mou's Red Devils 9/4 for PL title
"We will not miss him. He can't head the ball and he rarely passes the ball more than three metres."
How Real Madrid president Forentino Perez came to regret his decision to allow France midfielder Claude Makelele leave for Chelsea in 2003.
"He cannot kick with his left foot, he cannot head a ball, he cannot tackle and he doesn't score many goals. Apart from that, he's all right."
- George Best gives a brutal assessment of David Beckham's attributes.
"You were a **** player, you are a **** manager. The only reason I have any dealings with you is that somehow you are manager of my country and you're not even Irish, you English ****. You can stick it up your b****cks."
- Roy Keane eloquently informs Mick McCarthy why he had decided to withdraw from Republic of Ireland's squad for the 2002 World Cup.
"If Everton were playing at the bottom of my garden, I'd draw the curtains."
Legendary Liverpool boss Bill Shankly enjoyed nothing more than mocking the Merseysiders' city rivals.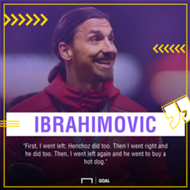 "First, I went left; he did too. Then I went right and he did too. Then, I went left again and he went to buy a hot dog."
- Ibrahimovic again, this time explaining in his own inimitable style how he got the better of Liverpool defender Stephan Henchoz.
"To those who did not believe: now suck my **** - I'm sorry ladies for my words - and keep on sucking it. I am either white or black. I will never be grey in my life. You treated me as you did. Now keep on sucking *****. I am grateful to my players and to the Argentinian people. I thank no one but them. The rest, keep on sucking *****."
- Diego Maradona had some very particular advice for his critics in the press after securing Argentina qualification for the 2010 World Cup.
"The local girls are far uglier than the ones back in Belgrade or Skopje, the capital of Macedonia, where I come from. Our women are much prettier. Besides, they don't drink as much beer as the Barnsley girls which is something I don't like at all."
- Former Macedonia international Georgi Hristov did not have much luck searching for his future bride during his unsurprisingly short stint at Barnsley.
"If they want to go to England then in the end they're going to go. But they need to understand this: the English live badly, eat badly and their women do not wash their genitalia. To them, a bidet is a mystery."
- Napoli president Aurelio De Laurentiis diplomatically advises in-demand attackers Ezequiel Lavezzi, Edinson Cavani against moving to the Premier League.
"Do you think I would get into a contract with that mob? Jesus Christ, no chance! I wouldn't sell them a virus."
Former Manchester United manager Alex Ferguson was initially reluctant to agree to allowing Cristiano Ronaldo to join Real Madrid...
"Have to take back what I said about Thiago Silva being over rated today. Been immense tonight. Still looks like an overweight ladyboy though!"
- Oxygen thief Joey Barton casts considerable doubt over the idea that prison can reform contemptible characters
"I didn't injure you on purpose and you know that. If you accuse me again, I'll break both your legs, and that time it will be on purpose."
- Ibrahimovic did not take to kindly to Rafael van der Vaart's claim that he had deliberately injured his then Ajax team-mate.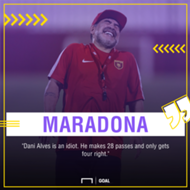 "Dani Alves is an idiot. He makes 28 passes and only gets four right."
Maradona bites back after Dani Alves questions whether the iconic No.10 should really be proud of his 'Hand of God' goal.
"Deschamps gets by because he always gives 100 per cent but he will never be anything more than a water carrier. You can find players like him on every street corner."
- Eric Cantona was never very appreciative of Dider Deschamps' industry in midfield. Credit to Deschamps, he responded to the Manchester United legend's criticism by asking: "How many players can you find on street corners who have won two European Cups?"
"Carreras, Santi and Otero are no good. They can die. I mean it: some of the players deserve to die."
- Former Atletico Madrid president Jesus Gil never reacted well to poor performances.
"I set aside everything I learned under Arsene Wenger. It's a complete waste of time at this level. They just can't take a lot of information on board."
- Former Wycombe boss Tony Adams insults lower-league players everywhere. And he wonders why his coaching career is going so badly...
"You have no balls... You are sh*tting yourself because of Jose Mourinho. You can go to hell!"
Zlatan Ibrahimovic was not a fan of Pep Guardiola's coaching style during their solitary season together at Barcelona.