Isco
Maybe Isco would play regularly at Atletico Madrid - Koke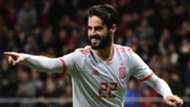 Koke believes Isco is the best midfielder in the world when he plays for Spain and is a huge fan of the Real Madrid star.
Isco scored a brilliant hat-trick as La Roja thrashed Argentina 6-1 on Tuesday, with Atletico Madrid's Koke playing 90 minutes alongside him in midfield.
And the 26-year-old has hailed his international counterpart, even hinting that he could cross the Madrid divide if he is not playing regularly at Santiago Bernabeu.
"As far as I'm concerned when he plays with us for Spain he's the best," Koke said at a promotional event ahead of the 2018 World Cup, per AS.
"His level is spectacular. I don't see him day-to-day at his club, obviously, and I don't know what (Zinedine) Zidane is thinking, but I love Isco.
"If he's not playing regularly there, maybe he would do at Atleti!"
Diego Costa opened the scoring on the night, and Koke believes his club team-mate is completely committed to Spain, having switched national allegiance from Brazil in 2013.
"There are absolutely no doubts there," Koke said when asked of Costa's commitment. "Diego wanted to play for Spain, he has given it everything and he will continue to do so. There's no reason to doubt him."
The pair will return to Atletico aware that their manager, former Argentina international Diego Simeone, will have watched the game, and Koke admits that he wanted to be victorious to avoid any banter from the 47-year-old!
"I don't know if we'll take the p**s out of him for it! I wanted to win the game so that he wouldn't be able to do it to me."