MLS
Maxi Urruti sends reminder of importance to FC Dallas with two-goal showing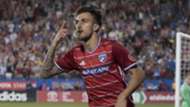 FRISCO, Texas — What's the secret to Maxi Urruti's success? Ask the FC Dallas forward himself and he'll chalk it up to support from his teammates. FCD coach Oscar Pareja will point to hard work on the training pitch. For the real dirt, though, you have to turn to Maynor Figueroa.
Listen to the FCD defender, and he'll tell you it's a ritual involving a South American tea and some of Argentina's finest tunes.
"Drinking mate before every game! He drinks a lot of mate and motivates himself by listening to traditional music," Figueroa told Goal with a laugh. "No, the truth is Maxi is a great player, very important for us. He's showed that not only tonight but also the whole previous season and this one that he's also started well."
Minnesota United gets first point
Urruti's two-goal performance against the New England Revolution helped FCD come back from a goal down to stay undefeated at the start of the season. While it's his first double in MLS play since May 2014 with the Portland Timbers, Urruti bagged two goals last year in the U.S. Open Cup final, when FCD again beat the New England Revolution.
"I thought those two goals represent what he is at this club," Pareja said of Saturday's strikes. "Maxi, he played for this team, and that's an example for all of us. The more he runs, the more he works for the team, the game is rewarding him. The goals came because he's working that much.
"I don't have any doubt that we're in front of the one of the best forwards in Major League Soccer and I hope that people give him his credit because he's doing a tremendous job."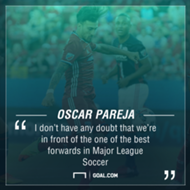 Despite playing a huge part in last season's Open Cup and Supporters' Shield triumphs - the club's first trophies in 19 years - there was speculation Urruti's role would be significantly diminished in 2017. FCD broke a club record signing traditional No. 9 Cristian Colman. With Pareja previously utilizing a 4-2-3-1 formation for most of the year, the thought was Colman would take a starting spot from Urruti, who tracks back and finds spaces but doesn't have the style of a hulking center forward.
But when Pareja went to a lone forward look in the second half Saturday, it was Colman he took off while Urruti stayed up top and eventually repaid his coach's faith.
"I'm doing my job, the manager decides who plays. Right now I'm playing as a starter, and I'm happy with that," Urruti told Goal. "I think the goals are a reflection of the work we're doing every day and we came in like that."
WATCH: Feilhaber whips in stunner
The night only could've gone better for Urruti had he been able to convert a chance in stoppage-time to complete his hat trick, but this time New England goalkeeper Cody Cropper was there to make the stop.
"I wanted to score another goal and take the ball home to my house, but another time," he said.
"Yes, yes, I really wanted it," he continued. "It came to me and he saved it on me. But I'm really happy for the three points, we're on a good path."
With an advantage heading into the second leg of the CONCACAF Champions League semifinals and seven points from three games to open the year, FCD is indeed on a good path. Urruti is part of that and will be going forward. That's no secret.