Marko Kraljević
Marko Kraljević: "Singapore can reach the semi-finals of the AFF Suzuki Cup"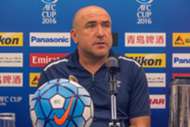 He led Balestier Khalsa to a sixth place finish in the league, while securing the third spot in the Singapore Cup earned The Tigers $25,000 in the process. These achievements aren't in itself bad considering how Balestier's budget is that of much lesser compared to other clubs in the Singapore Premier League.
Goal Singapore sat down with Balestier's head coach Marko Kraljević to get his reflections on Balestier's season, and his prediction on how Singapore will fare in the upcoming AFF Suzuki Cup.
1) What are your overall reflections on your team's performance this season?
At the start of the season we were in the top three. But problems started to seep in after a few of our players started to get injured and we didn't have the squad depth to maintain our performance.
That caused every department of our team to struggle and we failed to score goals because our key players got injured. Those who came off the bench did not have the desired impact because the gap of abilities was too far.
But at the end of the day we finished sixth and I am happy.
2) How frustrating was the semi-final of the Singapore Cup for you. Your team played so well against Brunei DPPM but unfortunately defensive frailties reared its ugly head again. What are your thoughts on this?
In the first leg of that tie I thought we played very well till we conceded a harsh penalty. Still we had a few chances to score and then we conceded the second goal.
But coming back to Singapore, the boys put on an excellent show. We went 2-0 up in the first half then again with ten minutes to go we conceded.
Again I felt the injuries to key players played a part in defeat. We didn't have the depth to push on harder in the second half. We did not have the game-changers that I would have like.
3) Huzaifah Aziz has been called up to the national team. Do you think it was deserved?
Last year Huzaifah was nowhere. We took him for trials and we didn't sign him immediately because he did not play much with Hougang (United).
But this is a player that has improved so much and has become an excellent midfield player. He can hold the ball; pass the ball and works so hard. He is combative and has character and I am not surprised that he has been called-up.
Even in the SOS (Sultan of Selangor Cup) game in Shah Alam, he was one of the best players and was superb in the midfield of that team. I sincerely do hope that he will be selected for the AFF Suzuki Cup squad.
4) Coach, for the AFF Suzuki Cup, what do you think Fandi Ahmad and his team will need to do if they are to have a deep run in the competition?
Every game in this tournament will be tough because most of the other Asean countries have closed the gap. But we have to understand that the gap is not that big between Singapore and them.
Even the last Suzuki Cup, if you look at the results, most of the defeats Singapore suffered were all by narrow margins. Also, the format for this year's competition is good for the fans.
For me if Singapore wants to experience a deep run in the competition or to even win it, the first game against Indonesia at home will be very important. If Singapore does manage to win their first game at home, the chances for them to progress will be great.
Even a draw will be insufficient because Singapore is playing at home and will need to get the fans on board. Going to Thailand and Philippines away will be very tough. Two home games the Lions must win. One draw away will be enough to see them through to the next round. Seven points can take them to the second round.
5)Lastly coach what is your prediction for Singapore. How far will they reach in the AFF Suzuki Cup?
I am confident that a semi-final place isn't beyond them.