Transfers
Manchester City's world record signing Benjamin Mendy is the best crosser in the world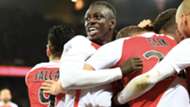 ---
COMMENT
---
Amid the hullaballoo of Radamel Falcao's renaissance, the stunning form of Bernardo Silva and the explosion of Kylian Mbappe, it would have been easy to overlook Benjamin Mendy's contribution to Monaco's stunningly successful 2016-17 season.
Man City favourites to win Premier League
The left-back joined the principality outfit from Marseille around 12 months ago, considered a prospect, and after proving himself one of Europe's outstanding left-backs of the season, he has become the world's most expensive defender by joining Manchester City for a fee of £52 million.
"Benjamin has the advantage of being a great prospect in his position while having solid experience of Ligue 1," sporting director Vadim Vasilyev considered when the deal was announced. "He is still very young and we want him to fully express his qualities and his potential. We believe a great deal in him."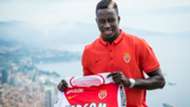 Over the course of the season, Mendy has become a posterboy for Monaco's project. The champions have the intention of buying low and selling high, and over the course of a year they have made over £40 million of profit on him, multiplying their initial investment by more than four times,
Martial proves his worth to Mou
Such a princely sum is the market value of a young man who played an important role as Leonardo Jardim's men upset Paris Saint-Germain to win a first domestic crown since 2000, particularly given they are so well placed financially.
His trademark was to make incessant progress down the left flank, showing the kind of attacking instinct that had made Marcelo Bielsa such a fan during the player's time at Stade Velodrome. 
The Argentine coach instructed Mendy to learn from Jeremy Morel and Rod Fanni – two players often mocked in France – at OM, but he listened and took on board the advice.
"I've seen people joke about it," the Parisian told Onze. "But Bielsa was serious. These are two experienced players and have played for several clubs. Away from the field they were professionals but before I was not.
"During training, young players often say: 'No, I already know how to do it, so I won't do it thoroughly.' 
"But that's not the right attitude. Always give everything. And by doing the maximum, you get to go higher."
Of course, in the modern era, it is essential for full-backs to be able to show sufficient energy to patrol the length of the field, but there have been none who have produced the relentless quality in the final third of Mendy.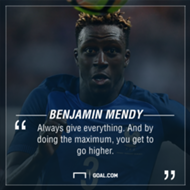 He might not have scored in Ligue 1 last term – the only member of Monaco's regular starting XI not to find the target – but his crossing from open play was unremittingly world class. Deliveries were persistently put into incredibly dangerous areas, with Mendy's ability to shape the ball proving a nightmare for defences as it allowed him to drop crosses between the goalkeeper and the rearguard.
What was perhaps most impressive about this particular aspect of his game, though, was his ability to produce such quality while sprinting time and again.
His complicity with Thomas Lemar and Radamel Falcao has been excellent, and there can be little doubt that he has been aided by the striker. "He had the good idea to come to see me at the beginning of the season so we could invent a code to help me know where to place my crosses," he said. 
"I remember what he told us before the preliminary round of the Champions League last summer. He said that Atletico did not have the best players, but because of their desire and heart, they had one of the best teams. Today we can see the cause and effect of their journey."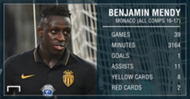 As an attacking full-back, it is easy to see why Pep Guardiola would be attracted to him.
Why Pep is right to sign Danilo and Walker
While he has contributed impressively on the field, he has also been the heart and soul of the dressing room away from it. He has been known to put ice cubes in his team-mates socks and play other such practical jokes, while he is also the dressing room DJ. Additionally, at just 22, he was one of three players responsible for negotiating the team's bonuses.
It is, therefore, clear to see why he is held in such esteem by the Monegasques. On the field, he has worked hard and developed even further than they could have hoped in a short period of time, and away from it, he quickly established himself as part of the glue that held the side together.
Their loss will be City's gain.