Manchester United
Man Utd legend Cantona joins Mata's Common Goal while questioning football's business model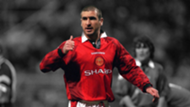 Manchester United legend Eric Cantona has become the latest star to sign up to Juan Mata's Common Goal initiative, with the Frenchman questioning football's business model.
A man who enjoyed a distinguished playing career, with a spell at Old Trafford being the undoubted highlight, joins a list of more than 60 players who have committed to a charitable cause.
The likes of Mats Hummels, Shinji Kagawa and Giorgio Chiellini have all pledged to donate one per cent of their wages to helping football-based projects around the world.
Explaining his reasons for wanting to get involved, Cantona told The Players Tribune: "There are many more people in the world who can't even afford to buy a football than there are people who can afford to pay 200 Euros to attend a Premier League match, or 400 Euros a year to watch it on TV.
"Football is one of life's great teachers. It is one of life's great inspirations. But the current business model of football ignores so much of the world.
"Poor neighbourhoods need football as much as football needs poor neighbourhoods. We need to support a more sustainable, positive and inclusive football, and I will do anything that I can to help.
"That is why I am joining the Common Goal movement as their first mentor. Common Goal's mission is to unlock 1% of the entire football industry's revenues for grassroots football charities, and more than 60 footballers have already pledged 1% of their salaries.
"The beautiful thing is that they are players from big clubs, players from small clubs, men and women, from leagues all over the world.
"Football should be for the people. This does not have to be a utopian idea. There is no reason why the major actors in the game today cannot come together and support the social aspect of football.
"All of us, whether we are rich or poor, whether we are immigrants or 10th-generation citizens, find the same simple joy in the game of football. We speak the same language. We feel the same emotion."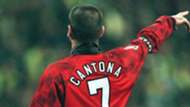 Cantona added: "Please, allow me to ask this same simple question to those who run the global game — the footballers, the agents, the sponsors and the committees - what is football if it is not about freedom? What is life if it is not about freedom?
"What is the meaning of life? I think we can all agree that we can do more for humanity?"
Common Goal co-founder Jurgen Griesback said of Cantona's desire to join the project: "Welcoming Eric on board and creating the new role of Common Goal mentor is another unique moment for all of us.
"We believe that position of mentor not only allows true legends of the game to harness their voices for the good of all, but also gives them the opportunity of creating a lasting legacy far beyond the incredible achievements of their playing career.
"We could think of few people better-suited to become the first Common Goal mentor than Eric Cantona."