Premier League
Man Utd could earn staggering £26m per season if they sold Old Trafford naming rights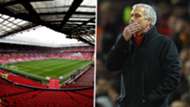 Manchester United could earn a staggering £26.2 million per season if they were to sell the naming rights to Old Trafford, a new study has found.
Former Chelsea CEO Trevor Birch heads up independent financial advisor Duff & Phelps, and the company has discovered that the cost of naming all 20 stadiums in the country has risen from £74.6m to £135.6m between 2013 and 2017.
United top the list, while Manchester City's Etihad Stadium is worth £19.1m per season.
Birch, managing director and head of British sports at the firm, is quoted by The Sun : "Sponsorship demand for the content rights of the top clubs in the Premier League shows no sign of abating.
"We have seen enormous increases in rights values of the elite clubs over the last couple of years, especially regarding shirt branding and product endorsement.
"Although the UK hasn't embraced stadium naming rights as enthusiastically as the United States, its potential to become an important revenue stream is highlighted by these figures.
"Clubs are continually looking at ways to generate extra value, and given the gilt-edged international demand for the Premier League TV rights, we may be entering a period where we start to see clubs monetising their stadium rights.
"This is potentially a huge opportunity for clubs, with 40 per cent of Premier League clubs, including Arsenal, Man City, Leicester, Stoke and Brighton all granting stadium naming rights to their grounds in recent years."
Chelsea's Stamford Bridge comes in at £17.7m while the report states that Tottenham could earn £15.5m, with chairman Daniel Levy still attempting to find a sponsor for the new stadium that is currently under construction.
| TEAM | STADIUM | VALUE |
| --- | --- | --- |
| Manchester United | Old Trafford | £26.2m |
| Manchester City | Etihad Stadium | £19.1m |
| Chelsea | Stamford Bridge | £17.7m |
| Tottenham Hotspur | New White Hart Lane | £15.5m |
| Arsenal | Emirates Stadium | £15.3m |
| Liverpool | Anfield | £11.1m |
| Stoke City | Britannia Stadium | £6.3m |
| West Ham United | London Stadium | £4.8m |
| Newcastle United | St James' Park | £3.6m |
| Everton | Goodison Park | £2.8m |
| Leicester City | King Power Stadium | £2.7m |
| Swansea City | Liberty Stadium | £2.6m |
| Southampton | St Mary's Stadium | £2m |
| Brighton & Hove Albion | AMEX Stadium | £1.2m |
| Crystal Palace | Selhurst Park | £1.1m |
| Burnley | Turf Moor | £1m |
| West Brom | The Hawthorns | £0.9m |
| Watford | Vicarage Road | £0.8m |
| AFC Bournemouth | Vitality Stadium | £0.6m |
| Huddersfield Town | John Smith's Stadium | £0.3m |
Arsenal round out the top five at £15.3m, while Liverpool could receive £11.1m for selling the naming rights to Anfield.
Outside of the top six, Stoke City comes in at £6.3m, while Huddersfield Town and AFC Bournemouth are at the bottom of the table, worth £300,000 and £600,000 respectively.