Paul Pogba
'Man Utd a far better team with Pogba' - But Neville still concerned by dancing and blue hair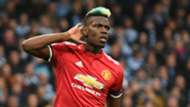 Manchester United are "a far better team with Paul Pogba in it", says Gary Neville, but doubts remain over his consistency and off-field antics.
The £89 million midfielder has come in for plenty of criticism this season, with Pep Guardiola's revelation that Manchester City were offered the Frenchman in January only serving to fan the flames.
Plenty of questions were asked heading into a crucial derby clash on Sunday, with Neville among those to slam the 25-year-old for his blue hair and supposed distractions away from football.
The former United defender still has concerns over an inconsistent figure, but was delighted to see Pogba show what he is capable of in a talismanic two-goal showing at the Etihad Stadium which saw the Red Devils deny their noisy neighbours a Premier League title party.
He told the Gary Neville Podcast: "I've said all year, Manchester United are a far better team with Paul Pogba in it. He brings arrogance, confidence and belief.
"But when you're a player who is signed for that money, when you dance like he does and when you've got hair like he has you have to play well and you have to match it.
"It's no good shouting and singing and not playing. You have to play well and he hasn't in the last couple of months and he's fallen out with his manager. It's a difficult situation.
"He is a fantastic footballer and he makes Manchester United a better team. He shows great belief and confidence and shows total confidence in himself - but you have to deliver consistently.
"Manchester United have shown great faith in him to deliver, they paid a lot of money for him, and there's a large expectation.
"The Manchester United badge carries a large responsibility. Manchester United fans don't want robots, they want characters, but it's then demonstrating it on the pitch and doing it consistently.
"He hasn't done that in the last couple of months, but he is a good lad and a good player and I hope for him and for United that he can start now to affect the biggest matches and win the biggest games."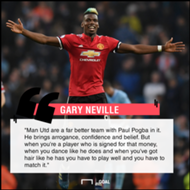 He added: "At half-time I could see this getting quite messy for Pogba and the questions Jose would have to be asked about his midfield player.
"For Pogba to come out in the second half and score those two goals… he needed that, he absolutely needed that more than ever because there were big questions being asked before this game, during this game and at half-time.
"People now will say. Let's see what you can deliver moving forward."
While pleased to see Pogba deliver where it matters most, in the heat of battle, Neville remains less than convinced by the value of having Mino Raiola as a so-called 'super agent' – with it the 50-year-old who apparently touted his client to City and Guardiola prior to string of denials.
The ex-England international added: "Pep has probably been a bit mischievous, there's no doubt about that. And I think Raiola would lie to anybody.
"He's a bit of a joke really. He's a really poor reflection on Paul Pogba."