Transfers
Man City outcast Nasri has Chinese and Italian options to consider, claims agent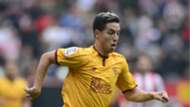 Samir Nasri has options to consider in China and Italy as he prepares to head for the Manchester City exits, claims the midfielder's agent.
The France international was among those deemed surplus to requirements at the Etihad Stadium following the arrival of Pep Guardiola as manager in the summer of 2016.
Like Joe Hart, Nasri was allowed to spend last season away from England on loan, with La Liga side Sevilla snapping him up.
Who Man City could sell this summer
He is now back at City for pre-season training but is expected to be on the move again during the current transfer window, with CSL clubs expressing an interest and the presence of Monchi at Roma sparking talk of a possible switch to the Serie A side.
Nasri's representative, Alain Migliaccio, told Romanews.eu on his client's future: "The player is still owned by Manchester City and we are evaluating several issues.
"There is the possibility of a transfer to China. With regards to Italy, there are two clubs interested who we have already talked to. They are top level teams.
"Monchi wanted him at Sevilla and knows him well. A city and a squad like Roma could certainly be very interesting for Nasri. That's where the motivation comes from.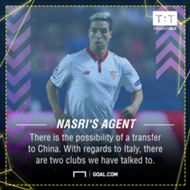 "Monchi knows what he wants and where he wants to go. He already has the project in mind: he sold important players, but has the right alternatives in his pocket.
"We want to understand the structure of the Roma option and work out if Samir can really fit into the Roma project. As far as we're concerned, we want to evaluate the situation well and understand the project.
"Nasri really likes the city, but a move to Rome would also depend on who is leaving from the midfield - Monchi is evaluating it.
"Samir can work in the centre as well as going wide. There will certainly be surprises and there are many things to be evaluated."
Alves to snub Man City & sign PSG deal
Nasri joined City from Arsenal for £25 million in 2011 and has tasted two Premier League title triumphs and a FA Cup win with the club.
He has made more than 170 appearances, scoring 26 goals, but managed just one outing under Guardiola before being moved on.
The 30-year-old signed a new five-year contract at the Etihad in 2014 so is tied to City for another two years if they are unable to get a deal done this summer.