Mali
Mali: We have prepared well for Ghana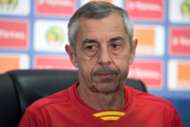 Mali coach Alain Giresse believes his side have put the necessary measures in place to beat Ghana to three points at the Africa Cup of Nations in Gabon on Saturday.
Following a scoreless draw against Egypt on matchday one, the Eagles are set to face, at Stade de Port-Gentil, the Black Stars, who picked up a 1-0 victory over Uganda.
"We have prepared well for the Ghana game," Giresse said.
"We will apply the suitable strategy for this game and do whatever it takes to win this match. 
"We have to get rid of the defects we had against Egypt. In the next game, we need to improve."
Mali have won two of their last four games against Ghana at the Afcon, the other two going in favour of the Black Stars.
"Ghana is a very good team and you have to be in your best form when you play against them," Giresse added.
"We have to be mentally and physically strong. I may apply some changes to the line-up as I am thinking of a change to the formation too. 
"Ghana is different from Egypt so I have to adopt a new approach. I will make sure to use all our technical and physical means to grab maximum points. 
"Our aim is to reach the next round and beating Ghana will put our feet already there."
Mali, on two occasions, finished third at the Afcon - 2012 and 2013.
The Eagles' best performance, however, was in 1972 when the finished as runners-up.