Malaysia Cup
Malaysia Cup preview: Equal chance in Group B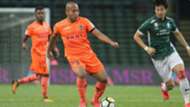 PKNS FC
2018 League finish: 3rd in Super League
2017 Malaysia Cup: Group stage
Best Malaysia Cup achievement
2018 League finish: 7th in Super League
2017 Malaysia Cup: Quarterfinal
Best Malaysia Cup achievement: Group stage
Felda United
2018 League finish: 1st in Premier League
2017 Malaysia Cup: Semi-final
Best Malaysia Cup achievement: Semi-final
PDRM
2018 League finish: 5th in Premier League
2017 Malaysia Cup: Did not qualify
Best Malaysia Cup achievement: Semi-final
Group B is the only group where there are no former winners of the Malaysia Cup among the four teams. Which makes the group a very open one with all four teams possessing the capability to snatch one of the two spots into the knockout stage.
PKNS are perhaps the strongest team in the group with K. Rajagopal having done a remarkable job of leading The Red Ants to a third place finish in his first year as head coach. The change of Jonathan Acosta to Bruno Matos in the mid-season transfer window proved to be an inspired decision as the latter is a capable goalscorer.
The increasingly improved fitness levels of Zac Anderson also provided Rajagopal with a steady influence in defence but regular partner Rodney Akwensivie willl be missing due to his participation in the Asian Games.
The difference for Melaka before and after E. Elavarasan came into the club couldn't be a more stark contrast. With the guidance of the former PKNS head coach, Melaka not only survived relegation but did it with some measure of comfort.
Elavarasan has improved Melaka's defence and in midfielder Lee Chang-hoon, they have one of the best attacking and creative midifelders in the country. Lee's partnership with Yahor Zubovich will be relied upon heavily to get Melaka through to the next stage.
Many say that Felda are a team of Super League quality playing in the lower tier, and they will not be too wrong in that. The Fighters have Hadin Azman, Khairu Azrin, Wan Zack Haikal, Thiago Augusto, Shukor Adan and Stuart Wark in their ranks.
B. Sathianathan knows the competition enough and will not be scared to pit his wits against teams from a division higher. The impetus from winning the Premier League and regaining their place in the top flight will also provide a big motivation for the team.
Arguably the weakest team in the group is PDRM who drew one and lost the other, in the two matches that they have played Felda in the Premier League this season. Fauzi Pilus does not have big stars in his team and he is expected to struggle to get results in the group.