Malaysia v Bhutan
Irfan nailing his mast to the centre back position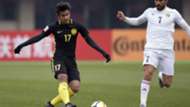 Malaysia goes into a final international friendly against Bhutan today, looking to achieve their first win in over 12 months but the mood in the camp is a positive one despite last Tuesday's defeat to Lebanon.
Having surprised the nation with massive changes to the squad prior to the team flying out to Beirut last week, Tan Cheng Hoe's boys produced a spirited showing against the group winners and Irfan Zakaria was one of many who shone on the day.
The 22-year-old Kuala Lumpur player earned his first ever senior international cap and formed a solid defensive partnership next to Perak's Shahrul Saad. Only told that he will be starting in a team meeting just before traveling from the hotel to the stadium, it was certainly the longest 20 minutes bus ride for young Irfan.
"To play for the national team has been my dream since I was a kid. Ever since I started playing football, I wanted to be a professional and to wear the national team's jersey. Thankfully, I managed to get my first cap and played the full match."
"[After being told] Start focus and just wanted to do my best. The feelings were a mixed one - happy, scared, nervous; everything was there. The first time that I'm playing for the senior team as I've just got my first call-up and now I'm in the starting eleven against the best team in the group," Irfan told Goal.
For his club side KL, Irfan has occasionally filled in at centre back but more often than not, is preferred in the central midfield position. However, the situation is different when it comes to national sides - with Ong Kim Swee starting him as a centre back and now likewise with Tan.
Someone who may not be the quickest off the mark but one that reads the game impeccably, Irfan looked to have grown in that position. Not someone who is reckless in jumping into challenges, Irfan has been continually making the right decisions on when to go in for a tackle and when to stand off.
Being an utility player, someone who can filled more than one position has never done any player a great deal of good. For any player to develop, he has to nail down a permanent spot in a specific position and for Irfan, centre back is where he wants to be now.
"[Two different roles for club and country] That is not a barrier to me. The coaches are the ones who are more knowledgeable about what to do with me. But moving forward, the centre back looks to be more suited to me and that will be the one I want to fight for, for my career," added Irfan.