Ghana
Mahatma Otoo confirms Balikesirspor stay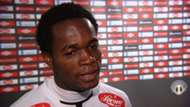 Ghana striker Mahatma Otoo has spoken about his future with Turkish second-tier side Balikesirspor, saying he wants to stay and complete his contract, amid interest from other clubs.
The 26-year-old, who once captained Hearts of Oak in Ghana, had an inspiring debut campaign with the Balıkesir-based side last season but they couldn't obtain qualification to the top-flight.
"I signed two seasons with Balıkesirspor and only spent one season here. l'm looking forward to another season even though offers are coming in," Otoo told Radio Gold.
"Moreover, before l returned to Ghana for the holidays, l had a meeting with the club's newly appointed president and he told me that he doesn't have any intention of letting me go amid the offers. According to him, he doesn't want to have problems with the supporters as a new president," he said.
"The president says if the club sell me this summer, the fans will start having problems with him because he can't just come in and sell their best player. So this is what happened between the two of us before coming down and it's obvious that I'll be around at least for another season," he added.
Otoo, who scored 13 goals last season for Balıkesirspor, was part of the Black Stars squad that won silver at the 2015 Africa Cup of Nations. He has seven caps with two goals to his credit.