WTF
Lyon wind up rivals Saint-Etienne by painting their pitch red!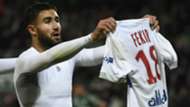 On the eve of the Rhone-Loire derby between Lyon and Saint-Etienne, a number of pictures emerged on Facebook, showing the pitch at Parc OL painted in red.
Of course, this was a photoshopped image as part of a digital communication campaign from one of Lyon's sponsors, but it also served to inflame tensions ahead of the fixture, with the idea being to eradicate any hint of green – Saint-Etienne's famous colours – before the match.
Adequat, who are Lyon's sleeve sponsor this season, have been perceived to be mocking the travelling club for not having any supporters allowed in the stadium.
Saint-Etienne fans are banned from the match because of incidents during a meeting between the clubs last term. 
A year ago, Lyon ran out 5-0 winners in an extremely fiery affair, which needed to be paused and was almost left unfinished after Nabil Fekir scored the visitors' sixth goal and then proceeded to celebrate in front of the home kop, taking off his shirt and showing them his name and number. The incident sparked angry scenes in the crowd, a pitch invasion and both sets of players were hurried off the field for a prolonged period in what was an ugly end to a hotly contested match.
It is not the first time that there has been a buzz generated involving Lyon's stadium at the expense of their local rivals. 
When it was under construction, there were rumours abound that suggested that the number 42 would not be present anywhere in the ground as it is the department number of Loire, where Saint-Etienne hail from. So significant were these whispers, the club had to issue a statement of denial, while there has often been bad blood between the two organisations in the media, a phenomenon that has become increasingly bitter following the scenes last season.
Lyon hold the upper hand in recent derbies, yet Friday's promises to be a particularly tense affair, with OL just a single point ahead of their neighbours in Ligue 1.
Although the hosts have Manchester City to consider in the Champions League on Tuesday, there is little doubt that their home tie with Sainte is at the forefront of their minds currently.