NPFL
LMC incentives are bringing out NPFL best, says Henry Makinwa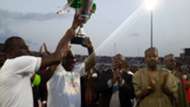 Henry Makinwa believes the financial incentives put up by the League Management Company have brought out the best in the Nigeria Professional Football League.
The LMC became the organizers of the country's elite division in 2013, and has since continued to witness huge publicity and improved competition on the pitch.
The 38-year-old tactician is confident the league will attract more foreign coaches and players in coming years as well serve as a strong talent discovery base for the national team.
"I think the general quality has improved because of what the LMC are doing," Makinwa told Goal.
"There is no more desperation to secure a home win. The referees are doing a great job and the managers have no excuse.
"Now, we are seeing the real quality of each team that because the LMC has put up a very good structure to get the best out of the league.
"I know in the next few years, the league will get better when we have more foreign players and coaches, and the league competition will be very high and you get the best.
"That will also have a cumulative impact on the national team. If you have to be in the home based national team, you have to be extra sit-up because if you don't do well you will be sent out because they need to win with the best players.
"The LMC pays a lot of incentives for having 5,000 crowds at home games, playing young players, getting away results – win or draw. That's fantastic because it is bringing out the best in everybody.
"The club managers, technical advisers, the players themselves have to be on their toes now because of the incentives in place. People has draws at home, look Plateau United had suffered a draw at home.
"If it was before, somebody will be thinking we are going to use referees to win games which are dying now. That's why I think the quality of the league is fantastic."