Transfers
Liverpool overpaid for Alisson but had no choice - McAteer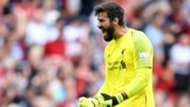 Liverpool overpaid for Alisson, says Jason McAteer, with Jurgen Klopp left with little choice but to pay "a premium" for a much-needed new No. 1.
The Brazil international is considered to be one of the finest goalkeepers in world football, but his summer transfer raised the financial bar considerably when it comes to players in his position.
A £65 million ($85m) deal briefly made the South American the most expensive shot-stopper of all time, before Chelsea then topped that agreement with their signing of Kepa Arrizabalaga.
McAteer believes those asking prices are the result of inflated fees across the board, with Liverpool forced to dig deep in order to address an obvious weakness in their ranks.
The former Reds star told Express Sport on Klopp's efforts to replace Loris Karius and Simon Mignolet: "There were areas of improvement to be made. Certainly after the Champions League final it was apparent that the goalkeeping area was the number one position which needed addressing."
He added on Alisson's excessive fee: "I think the goalkeeper – like a centre-half or centre-forward – comes at a premium now.
"So, knowing Liverpool were in the market for a keeper put a premium on the transfer fee, but that's the way it was.
"I think [Alisson] is the right man for the job – with Jurgen and his philosophy, he likes a keeper that plays out from the back and is comfortable with his feet."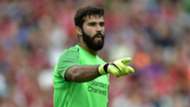 Alisson was not the only big-money deal done by Liverpool over the summer, with the Reds working hard to add depth to their squad, but the 25-year-old is considered to have been the most important.
Pressed for his take on which move Klopp had to make, McAteer said: "The keeper.
"It's an area that has been steadily improving over the last three seasons since Jurgen's been there. Goals against Liverpool has improved.
"He's commanding, good with his feet, an imposing figure and instils confidence into the back four."
Alisson did make an uncharacteristic error prior to the international break against Leicester, but was back to his steady best against Tottenham on Saturday as Liverpool preserved their faultless start to the 2018-19 Premier League campaign with a fifth successive victory.