Super League
Liridon believes red card is key, Baddrol dedicates win to fans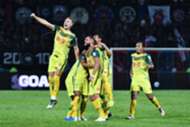 ---
BY         NIK AFIQ        Follow on Twitter
---
Kedah playmaker, Liridon Krasniqi believes that the red card to JDT's S. Kunanlan towards the end of the first half was the turning point for his team to go and find the equaliser.
Kedah fell behind to Safiq Rahim's opener in the first half of the Sultan Haji Ahmad Shah match, but after Kunanlan was sent off, the visitors managed to equalise in the second half through Baddrol Bakthiar.
Kedah went on to win the game after a penalty shootout, and Liridon believed they could've finished the game early on in the first half.
"We could've score in the first 45 minutes but the red card gave us a huge advantage. It would be great if we could get the three points but I'm still happy."
"This is the second trophy for me and I think we did a great job. I am very proud with the result and the squad. It was a fantastic game for both sides."
For Baddrol Bakhtiar, he believes that the win was due to the great teamwork among the players and he dedicated the win to Kedah's faithful fans.
"Before we took to the pitch, the coach told us to keep our focus and because we know coming here and to get a win was not easy."
"Tonight we played well as a team, and the combination that we practised since last year worked very well and this win is for all players and our faithful fans."
Baddrol praised JDT for putting up a good fight, but he believed the tactical strategy set by coach Tan Cheng Hoe worked out well for his team.
"We always play with short passing and fast attacking game and luckily, tonight we managed to do well in both aspects."
"JDT put up a good fight up until the end but we showed great determination to get the win," added Baddrol.
Baddrol scored a beauty from outside the box to cancel out Safiq Rahim's opener. Kedah came out as the winner after JDT's Brian Pereira missed his penalty, and Liridon Krasniqi stepped up to score the winning penalty for the Red Eagles.