Ligi kuu Bara
Ligi Kuu Bara relegation battle: Who will go down?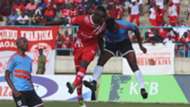 Six teams will enjoy Tanzania's premier league promotion from the First Division League (FDL) in the next season while the two Ligi Kuu Bara teams will face relegation this season.
The next season football lovers will see 20 teams in Ligi Kuu something which will add more competition in the league than ever.
JKT Tanzania is the only team which has already been assured of participating in the next season's Premier League.
The team have accumulated 34 points in just 13 matches out of 16. Now in group 'A', the team will garner the points as the second placed African Lyon have accumulated only 24 points with only two matches remaining.
In group 'B' which includes Coastal Union, JKT Mlale, KMC, Mbeya Kwanza, Mufindi United, Mawenzi Market and Polisi Dar still look tough to their competitors.
The tough competition come after all teams have already played 13 matches and hold two matches to end the league.
JKT Mlale have accumulated 25 points, Kinondoni Municipal Council (KMC) have also accumulated 25 points and Coastal Union have 23 points in hand. Anyone can lead the group.
Group 'C' has Biashara FC, Dodoma FC, Alliance Club, Rhino Rangers, JKT Oljoro and Transit Camp.
Biashara FC leads the group with 27 points followed by Dodoma FC and Alliance Club, both have 25 points so the two may play premier league next season.