Leicester City
All's well that ends well? Shakespeare has brought Leicester, Vardy & Mahrez back to life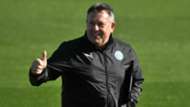 ---
COMMENT
---
Craig Shakespeare's name is not one with which the majority of modern football fans are too familiar. A coach that excelled for Walsall and Grimsby Town during his playing days and boasted no previous managerial experience, he is not the traditional candidate to take over at the Premier League champions heading into the final run-in. But then, Leicester City are not traditional champions.
Unlike most previous title winners, they are facing up to a battle against the drop rather than another fight for domestic silverware, with Shakespeare's new role placing him at the helm following one of the most scrutinised sackings of recent years.
Alves-Pep reunion would help City
Furthermore, while Claudio Ranieri's successor faces a scrap he is more than familiar with given his previous experience, he also finds himself parachuted into the glitz and glamour of the Champions League with a real chance of guiding the Foxes into the quarter-finals. Where once it was Blundell Park, Shakespeare could soon be getting to grips with the Santiago Bernabeu.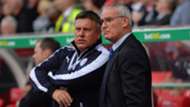 Shakespeare's path to managing in club football's premier competition may not be as well trodden as those of his contemporaries, but that is not to say it is undeserved. Serving as Nigel Pearson's assistant at the King Power Stadium, he served as part of the team that helped the Foxes first earn promotion back to the Premier League before pulling off a run of results that saw them survive in almost miraculous fashion.
Ranieri's decision to keep Shakespeare in his role as assistant manager following Pearson's sacking spoke volumes for his ability as a coach as well as the relationship he had forged with the playing squad.
'Judas' Mourinho hits back at Chelsea haters
What followed defied logic as Leicester ran away with the Premier League title, with Shakespeare's role in football's greatest fairy tale earning him a job among Sam Allardyce's backroom staff for England. His departure following the ill-fated regime's sole match seemed to signal the end of his chances of being somewhere close to the limelight on the world stage.
Coincidentally, it was on the evening of Leicester's first ever Champions League home game that Allardyce was relieved of his duties by the Football Association. Fast-forward six months, and Shakespeare is in even sharper focus than he would have been helping to coach the Three Lions.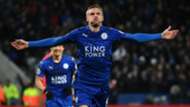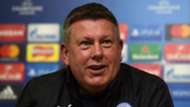 Having won both of his matches in charge as Leicester's interim boss, Shakespeare will remain as manager until at least the end of the season. The improvement in both performance and mentality among the players has been marked since Ranieri's departure, and for that Shakespeare must take some of the credit.
The likes of Jamie Vardy and Riyad Mahrez look reborn, and though that may just be down to the fact Ranieri is gone rather than the new boss, the familiarity of Shakespeare has no doubt helped. In fact, if former Leicester coach Kevin Phillips is to be believed, Shakespeare has been running the show for longer than many suspected.
If Pogba's worth £90m, so is Kante!
"He was holding the place together," Phillips said of Shakespeare on Sky Sports. "I worked there for a short period under Ranieri and at times the organisation was not good. If it wasn't for Shakey, it could have fallen apart a lot earlier. 
"You also have to give the players credit. They kind of policed themselves last year. They managed themselves really well. Of course, the manager takes all the credit for winning the league - which he deserves an awful lot of - but it would have been a lot more difficult for them to win it without Shakey being there."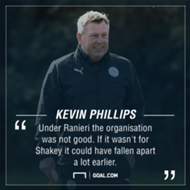 Under the tutelage of Shakespeare, most pundits believe that Leicester will now survive the drop, despite still sitting just three points above the bottom three.
There is still a danger that complacency could creep in if the champions begin to believe their own hype once again now that they have a manager with whom they are happy, but their quality will likely be enough to pull them clear of the drop zone by the time May comes around. Instead, it is in Europe where they could pull off something really special.
Sevilla's failure to finish off their last-16 tie within the first hour at the Ramon Sanchez Pizjuan Stadium means they arrive in the east Midlands far from assured of their place in the quarter-finals.
Chinese player's bizarre Pato mockery
Jamie Vardy's away goal in Spain has kept Leicester very much in contention for a place in the last eight and with the Liga outfit having failed to win either of their last two matches, there is justifiable hope that Shakespeare can maintain the fairy tale that has bewitched the city for over 18 months. If he does, he could be given the opportunity to take charge on a more permanent basis this summer.
A month ago, it seemed unthinkable Leicester would still be even in with a chance of staying in the Champions League. The fact Shakespeare is in charge just adds a further twist to this most incredible of stories. Given everything that has happened, few would bet against this not being the final chapter.