Simba
Lechantre: I need to see Niyonzima in action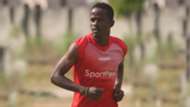 Simba head Coach Pierre Lechantre has urged Rwandan midfielder Haruna Niyonzima to step up his recovery from injury so that he can return to action ad fight for the team.
Speaking to Goal the Frenchman said that he knows very well that Niyonzima is a talented player but needs to see it on the pitch so that he can be given a chance in the squad.
"The management of Simba and technical bench have told me about Niyonzima and I appreciate what they are saying but I need to see the player in the pitch to be content." said Lechantre.
Niyonzima has been missing from action due to a long term injury and looks like he will need to impress the new coach once fully fit.