Kenya
KPL terms SportPesa exit a huge blow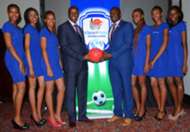 The Government through 11th parliament passed a law that led to increase of taxation for gambling firms from 7.5% to 35% effective January 1, 2018.
It is with that effect that betting firm SportPesa have decided to pull out sponsorship from local clubs and unions from next year. A tweet from SportPesa CEO Ronaldo Karauri read, "As @SportPesa we will be giving notice to clubs and unions that from January 1 we will withdraw all sponsorships. With the new bill coming into effect on January 1st, 2018 we want our sports partners to plan accordingly."
Blow as SportPesa withdraws sponsorship
The firm sponsors the Kenyan Premier League, Rugby, Boxing, clubs such as AFC Leopards, Gor Mahia and Nakuru All Stars will suffer as a result. It is a move that Kenyan Premier League Limited CEO Jack Oguda terms as a major setback. "If it really happens, then it will be a major setback in everything as far as sports is concerned.
"This means people are going to lose their jobs because there will be no money to pay them. What about the players? They will have no salaries and their families will suffer because they will not afford to sustain themselves," Oguda told Goal.
"This is a company that has invested a lot in sports and it is us to lose in the long run."
SportPesa is expected to give an official statement regarding the same.