Liverpool
Klopp warns Liverpool 'second is nothing' in Premier League title fight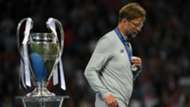 Jurgen Klopp is aware that "second is nothing" in football, with it up to him to ensure that the potential within Liverpool's class of 2018-19 is turned into tangible reward.
The Reds last lifted a major trophy back in 2012, when Kenny Dalglish guided them to League Cup glory.
There have been several near misses since then, with Klopp having tasted three final defeats since taking the reins – in Europa League, League Cup and Champions League competition.
He is determined to right those wrongs this season, with Liverpool back in the hunt for European glory and perched among the Premier League title chasers following an unbeaten start to their top-flight campaign.
Klopp told reporters on the need for silverware to be secured: "Nobody wants to look back in 10 or 20 years and say the best time we had without winning anything was when Klopp was in, it was so funny, all that stuff.
"That's not really something you want to achieve. But times have changed. It's much more difficult than it was in the past.
"We are maybe in the best moment for ages, but a few other clubs have made the same steps. That makes it difficult.
"In most sports, coming second in the Olympics you come home with a silver medal.
"In football, it's nothing. And it's nothing for me as well. I want to win it, and I know that's a responsibility.
"I put all I have, knowledge, passion, heart, experience, I throw everything into the club 100%. I don't keep anything back.
"It should work, actually, at one point. But until then, we should have a really good time."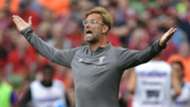 While Klopp is the man charged with the task of steering Liverpool back onto the top of the podium, the German tactician acknowledges that a loyal fan base has a key role to play when it comes to inspiring confidence in his players.
He said: "In Liverpool, the enthusiasm, involvement and feeling of all people is brilliant.
"We have to keep that, that's exactly how it should be.
"There are many things more important than football, but when you go to a football game there's nothing more important.
"I can still feel how special it is and how blessed I am to be really that part of it.
"Being at this moment a Liverpool supporter or employee, it's fantastic. It just feels great."
Liverpool have come through their first testing run of the season relatively unscathed and will return to action after the international break looking to surge through meetings with Huddersfield, Red Star Belgrade, Cardiff, Arsenal, Fulham and Paris Saint-Germain.
They are then set to open December with a first derby date of the season against Merseyside rivals Everton at Anfield.