Liverpool
Klopp: I'm ready to help Gerrard become the best manager he can be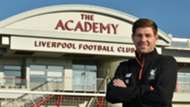 Jurgen Klopp has labelled Steven Gerrard's decision to join Liverpool's Academy staff as "wonderful news for football" as he builds a base to enter management.
The 36-year-old called time on a stellar playing career last November and will help shape his boyhood club's next generation as a coach at the same youth system that developed his talents.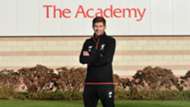 The former Reds skipper will begin his duties at Kirkby in February, initially in a floating role, and Klopp commended Gerrard's willingness to swerve shortcuts as he works towards taking full control of a side in future.
"We had a very, very good, very long talk together," the German detailed at Melwood on Monday.
"Probably everybody in this room knows better than I do that he's a wonderful guy. 
"For me, it was only important to know what Steven wants, actually, and he said he wants to be a manager in the future. So, that's cool. 
"I said from my side, everything I can do to help him on this way, to make him the best manager he can be, I'm ready for this and I would like to do it."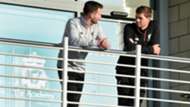 Klopp helped advise Gerrard on how to kickstart the next phase of his career and has no doubt the Liverpool legend will succeed in a challenging environment given his diligence and dedication.
"We spoke about different things, different options and now he's at the Academy," the manager said.
"That's great for us as a club, and I think for him it's perfect because being a manager is a job you have to learn.
"When a person like Steven Gerrard - the player he was, but more the person he is - is ready to make the steps, that's wonderful news for football. 
"Combining the playing experience with all the things he'll learn from now on, that's a bright future and is brilliant."